iTWO costX Consultant Series: 5D BIM Guidelines for Architects and Designers
For our latest Consultant blog series, we'll be delving deeper into the topic of 5D Building Information Modelling to provide some handy tips and tricks for iTWO costX users. Our fourth post is from our Middle East based Consultant Herman van Eeden, who has provided an overview of how to communicate your requirements to architects and designers.
In recent weeks/ months we have explored some of the BIM workflows in iTWO costX and shared some tips and tricks to make the life of the QS or estimator using iTWO costX and BIM models a bit easier. However, it is not just down to the QS or Estimator and their capabilities with the software to achieve the ultimate efficiencies that BIM can offer.
BIM as a philosophy calls for greater collaboration between not only the consultant teams but all stakeholders in the construction process. This workflow has traditionally been and remains slightly stop-start in its nature, with different stakeholders involved at different times in the workflow. Certain research pieces and case studies suggest that early involvement in the design process and model creation can lead to a number of advantages across the whole lifecycle of construction, that will have real/measured benefits and savings for all involved.
In this blog post we will investigate how our colleagues (architects, designers and BIM Managers) can assist us with the way that they not only design but also publish the models they eventually share with us. We utilise a document that is part of the iTWO costX install shield and can be found at the following location on your computer if you have iTWO costX installed: C:\Program Files\Exactal\CostX\Doc- called the Drawing File Optimisation document. You can also download it from this link. We encourage you to share this document with the design team to help achieve/ deliver models that are in the best state to work with in iTWO costX.
The document provides guidance on the most suitable file types: DWFx and IFC as well as 2D file types. Then it reviews the different methods of Data Extraction before covering how these drawings should be set up as well as published. Some extracts have been included below to give you a good idea of what to expect in the document. Note- the first sections of the document deal with 2D drawing file types, which is really useful as there are a number of efficiency savings that can be achieved here already. However for the sake of this blog we will skip over this as we are focusing on 3D/BIM models.
3D Drawing Files and BIM Models:
The first excerpt is from the section titled 3D Drawing Files and BIM models. Coupled with our training course and webinars dealing with this topic, this section is really useful in getting familiar with model file types and how to go about measuring from these models.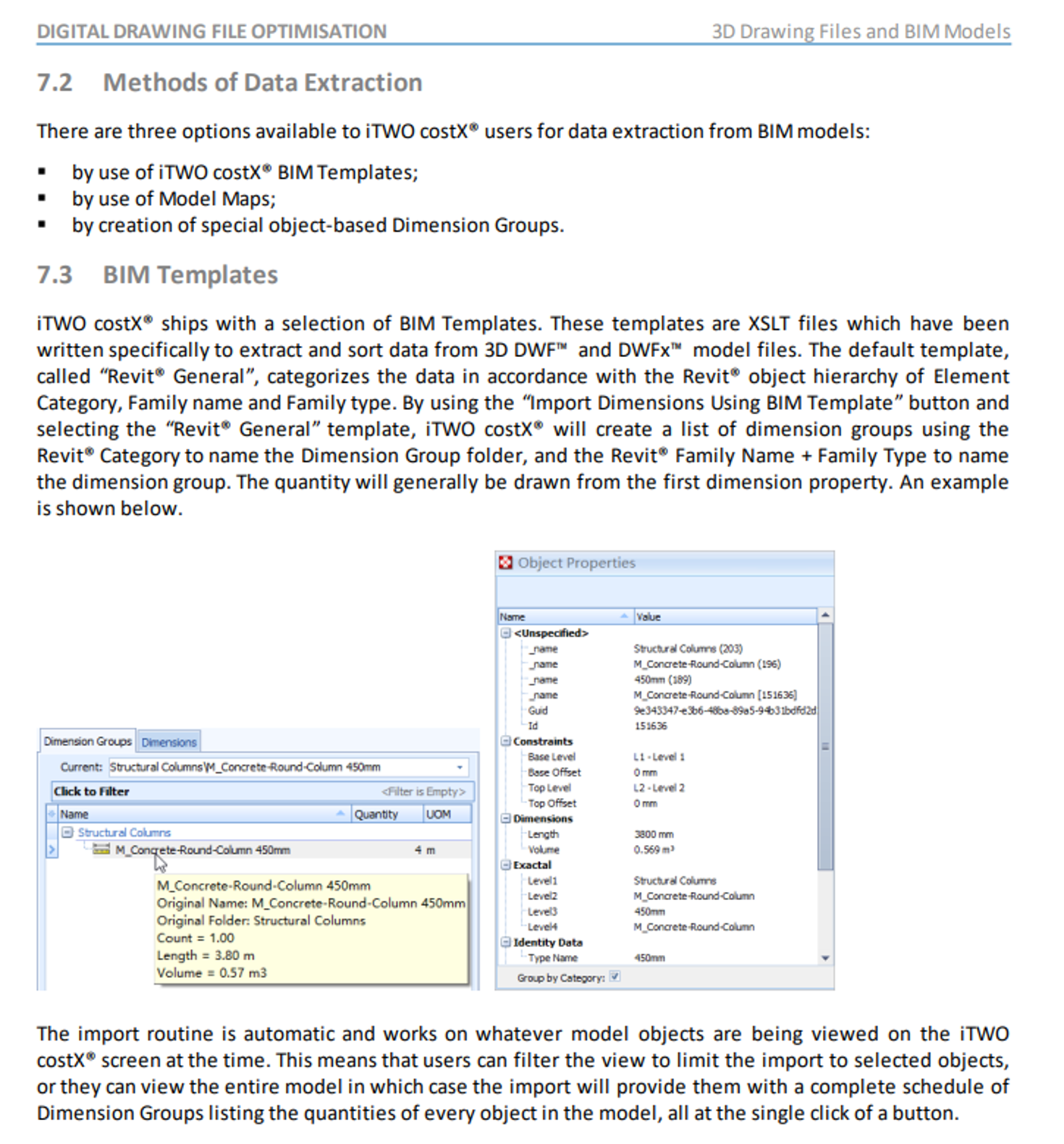 3D Drawing Files from Revit:
Next we consider models published from Revit, a widely used BIM design software (note that details on AutoCAD MEP, Civil3D and ArchiCAD are covered under other sections of the document). A range of topics are dealt with, starting with the way the project units are defined, the family naming conventions and subsequent model tree, and concluding with export and publishing options.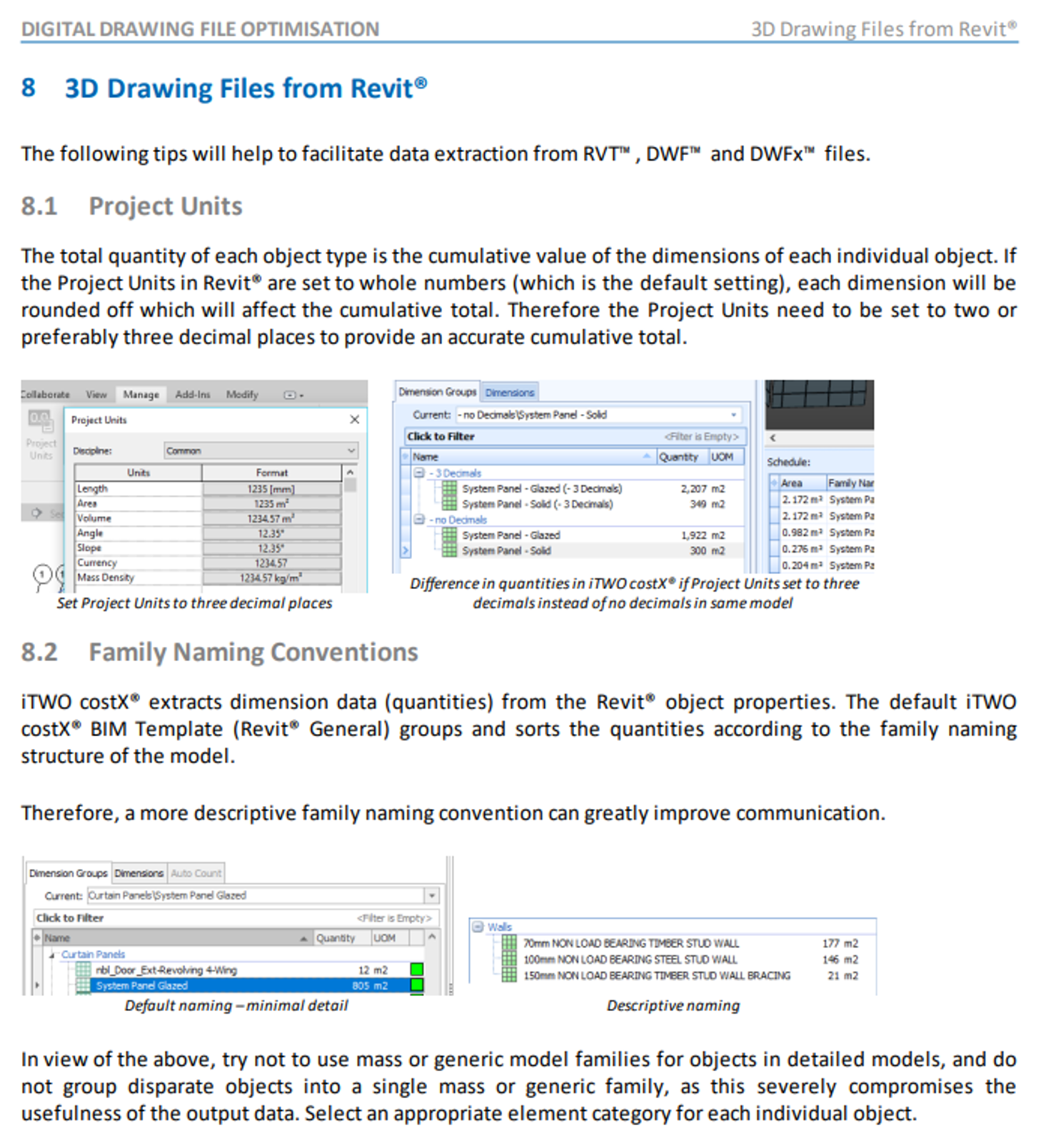 IFC Files:
Lastly, an excerpt has been included from the section where we look at the BuildingSMART industry foundation classes (or IFC) models as a supported drawing file type.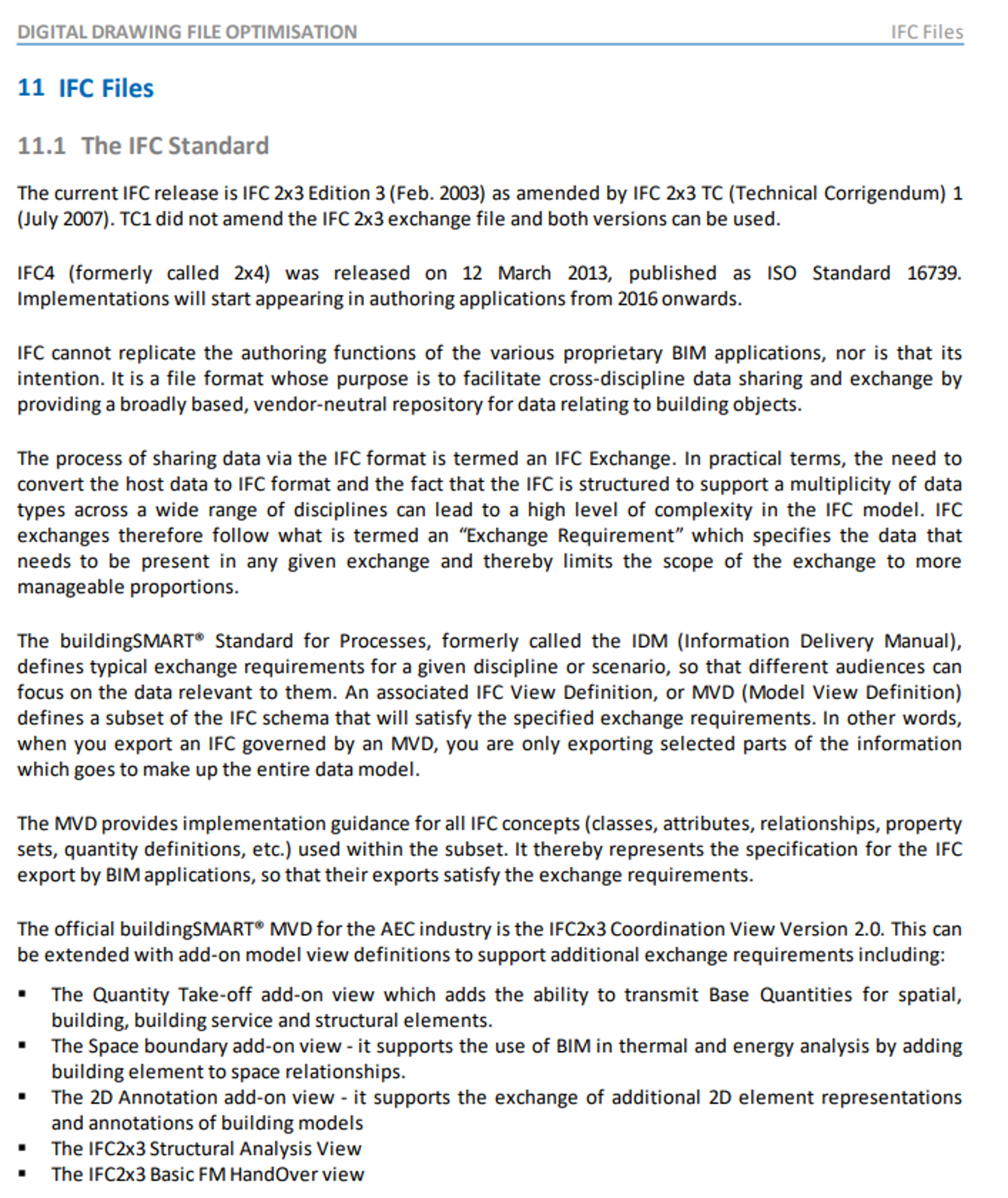 In closing it is important to remember that these are merely guidelines that should form part of any BIM discussions regarding the Estimator/ QS. The traditional role of the cost consultant is changing to a more digitally enhanced role and it seems that BIM will play a big part in that in the future. We therefore encourage you to be well-versed in what it is that you require, which, if you're an iTWO costX user, the Drawing File Optimisation document can assist in. To see more about this document and download it, please click here.