A New Decade of Construction: Six Stunning Skyscrapers for 2020
Skylines are shifting across many of the world's major cities, with a host of ambitious skyscraper builds set to complete this year.
While skyscrapers are more often lauded for being incredible feats of engineering, some manage to move the needle with regard to their architecture as well. For our latest blog we have detailed six soon-to-complete projects, spread across the globe from Mexico to Milan.
Australia 108
Melbourne, Australia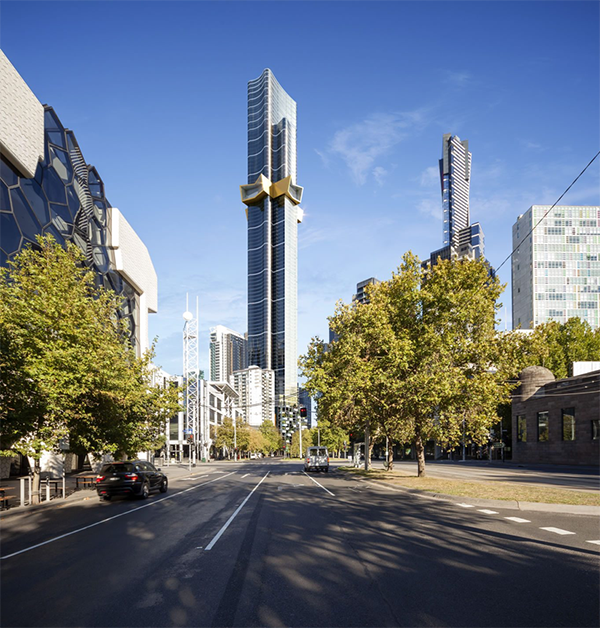 IMAGE SOURCE: Fender Katsalidis
Australia 108 was crowned as the nation's tallest building by roof height when it topped out in November 2019, although construction is yet to fully complete on the 317m residential structure.
Melbourne's first supertall skyscraper boasts the highest residences in the Southern Hemisphere. Fender Katsalidis Australia were commissioned to design Australia 108 in 2014, and 80 per cent of the apartments on sale were snapped up within twelve months of this date.
The Southbank skyscraper features a design aspect called the 'Starburst'; a building section shaped in plan like a Commonwealth star. Two of the skyscraper's amenity levels are housed within the Starburst, which Fender Katsalidis say '…cantilevers eight metres out from the building, where residents can relax in a double-height sky garden or enjoy the infinity edge swimming pools.'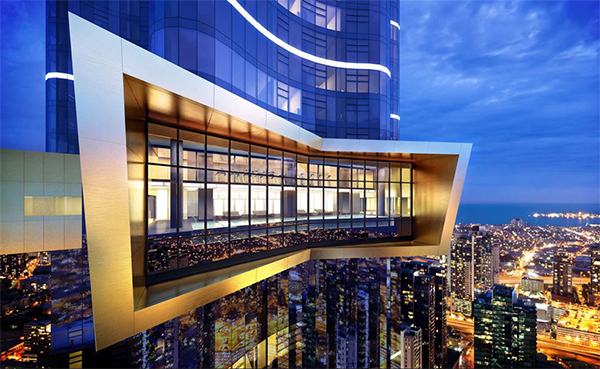 IMAGE SOURCE: Fender Katsalidis
Libeskind Tower
Milan, Italy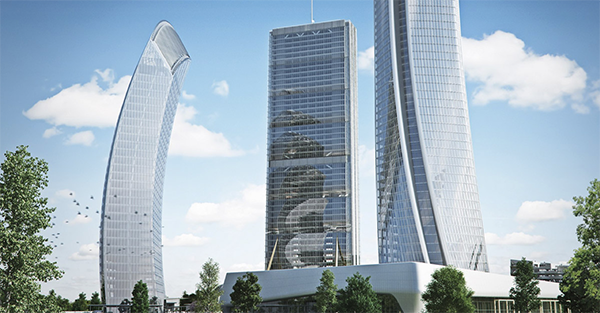 IMAGE SOURCE: Libeskind Tower
The third structure in Milan's long-planned CityLife business district, the Libeskind Tower will serve as the Italian headquarters for PricewaterhouseCoopers when completed in 2020.
The 175m tower is also referred to as 'Il Curvo', with the concave design creating a striking presence for the Milanese skyline. The Daniel Libeskind architecture in the CityLife district stands between the Allianz Tower and Generali Tower, designed by Arata Isozaki and Zaha Hadid respectively.
According to Studio Libeskind, the PwC Tower is '…made of sustainable, state-of-the-art glass that will reflect the public space below and vistas around. It is personally crafted and conceived to provide a sculpted and highly visible skyline.'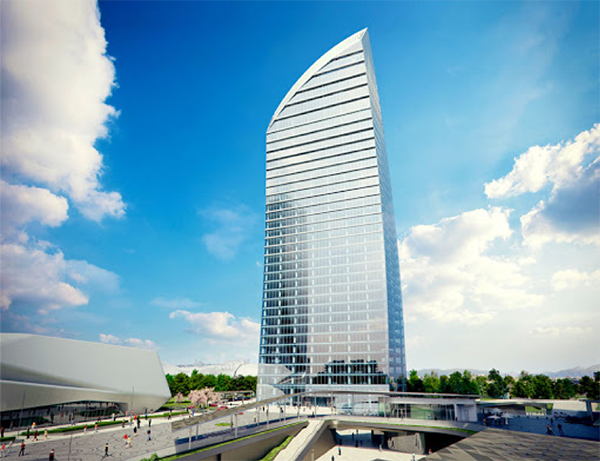 IMAGE SOURCE: Interior Design

22 Bishopsgate
London, United Kingdom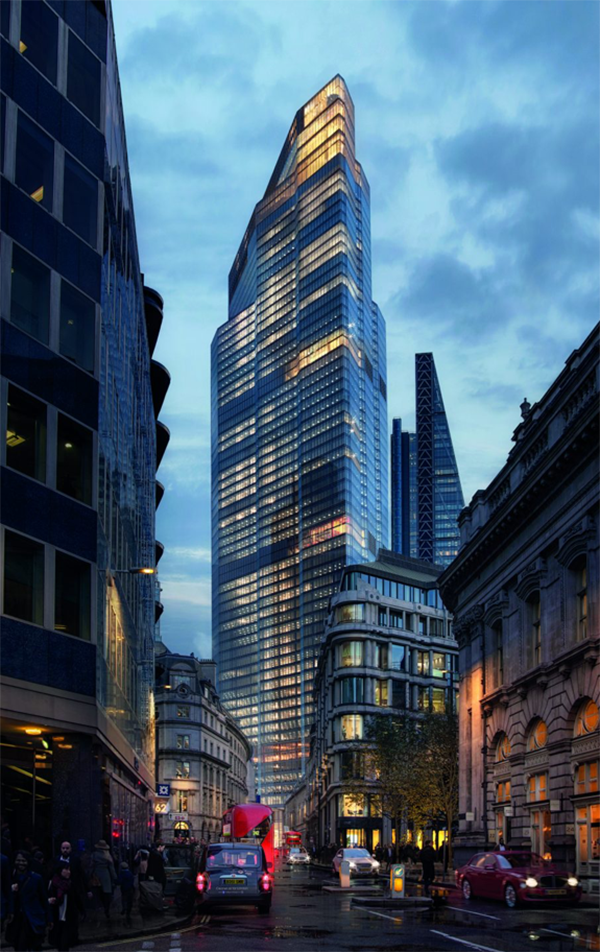 IMAGE SOURCE: PLP Architecture
While London's upcoming skyscraper is behind The Shard in terms of height, 22 Bishopsgate looks set to take the crown as the most technologically advanced commercial structure in the UK.
Built upon the foundation of the never-completed Pinnacle Tower project, the PLP Architecture designed building will be 62 storeys and 278 metres tall. The structure is designed in a '…twenty-three-sided, faceted glass form that makes a strong and serene backdrop to the surrounding articulated towers.'
PLP Architecture describe 22 Bishopsgate as a Vertical Village, where the wellbeing of workers is of paramount importance. The 12,000 commercial inhabitants of the building can enjoy everything from extensive wellness services to art installations and other modern amenities.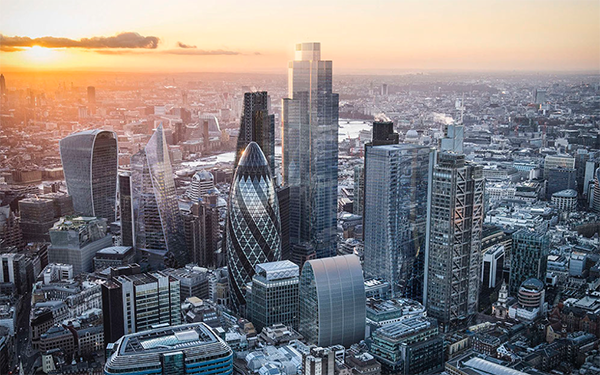 IMAGE SOURCE: PLP Architecture
Torres Obispado
Monterrey, Mexico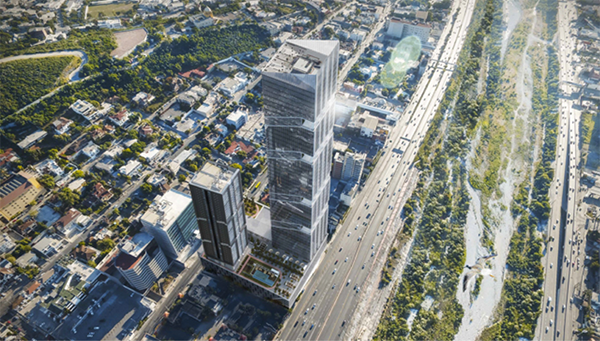 IMAGE SOURCE: Skyscraper Center
Mexio's first supertall structure has already topped out and is scheduled to complete in 2020. Tower 1 of Torres Obispado (Bishop's Towers) stands 305 metres tall, making it the tallest building in all of Latin America.
The mixed-use skyscraper is comprised of two structures, housing the 176-room Hilton Garden Hotel as well as large office and residential spaces. When finished, the project will achieve LEED Gold Certification for sustainable buildings.
Designed by Pozas Arquitectos, Torres Obispado represents a city and country on the rise.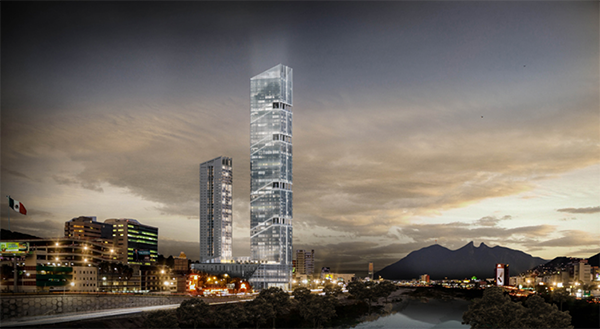 IMAGE SOURCE: Skyscraper Center
1 Denison Street
Sydney, Australia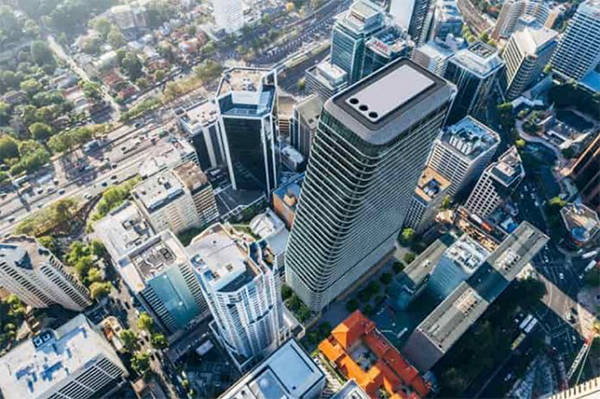 IMAGE SOURCE: Build Sydney
A new 37-level commercial office tower will change the skyline of North Sydney when it completes in 2020. 1 Denison Street was designed by architects Bates Smart, and will offer 60,000 square metres of high-end office space atop a two-level public forecourt area that fuses urban structures with natural features.
The project has been built on a site that was acquired for $80 million in 2016, and will stand alone as the tallest skyscraper in North Sydney when completed. Bates Smart describe 1 Denison Street as a '…simple, elegant and timeless design that distinguishes itself from the rectilinearity of existing nearby commercial buildings. The building's unique form and geometry is derived through careful consideration of how a major tower can reduce its impact on the amenity of its neighbours.'
According to contractor Multiplex, 1 Denison Street has been built to achieve 5 Star Green Star, 5 Star NABERS and Wellness Rated standards.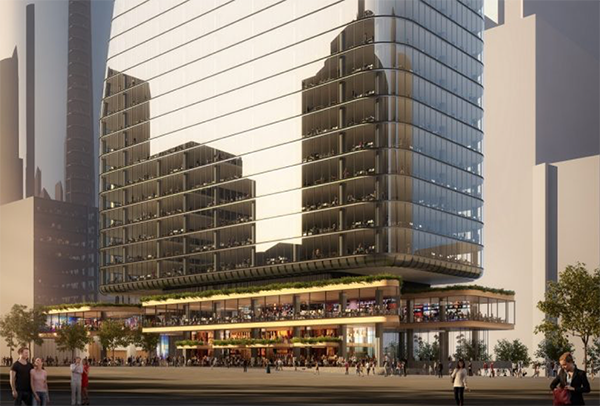 IMAGE SOURCE: Bates Smart
Vista Tower
Chicago, United States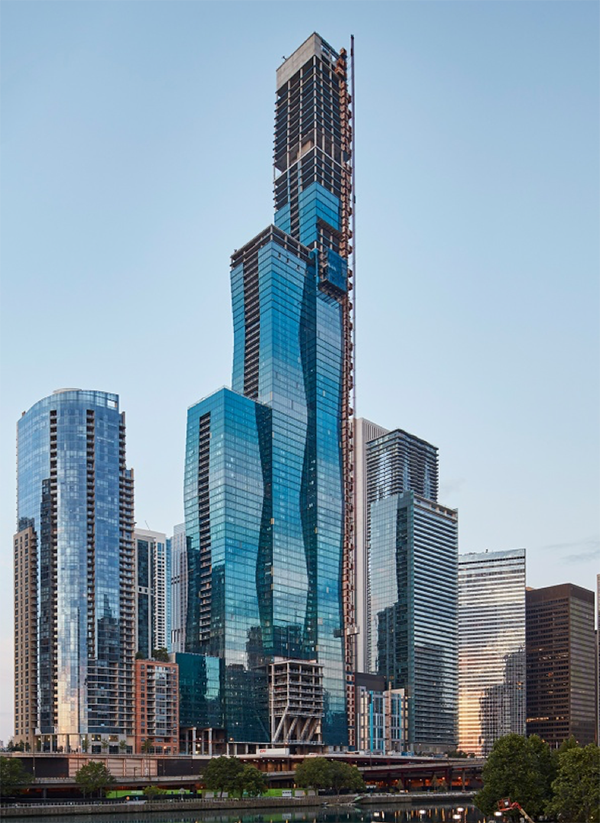 IMAGE SOURCE: Studio Gang
Chicago's third-tallest structure is scheduled to complete this year, with the 363-metre skyscraper already topped out in the Windy City. The project is a joint offering between Magellan Development Group and China's Wanda Group, with the tower to contain a 200-room luxury hotel and almost 400 deluxe condos upon completion.
The structure is comprised of three interconnected towers, built in a curvilinear design with a gradient of coloured glass across the façade. Architecture and urban design practice Studio Gang conceptualised the tower. The project was coordinated by chief architect Jeanne Gang, meaning Vista Tower will be recognised as the tallest structure in the world to be designed by a woman.
Another design feature of note is an unoccupied 'blow-through' floor in the 83rd story of the skyscraper. This dissipates some of the effects of the wind to prevent structural swaying.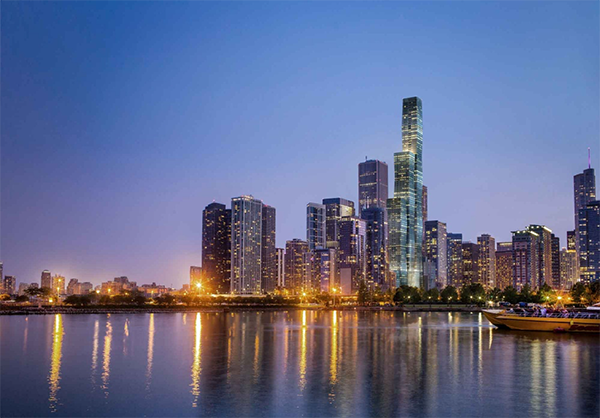 IMAGE SOURCE: Studio Gang
Choose CostX® for 2020 and Beyond
Our CostX® construction estimating software is built to support large and small enterprises across the globe. The platform has been refined and improved for more than 15 years, and now represents an industry-leading solution for 2D and 3D/BIM estimating.
If you're looking to advance your quantity surveying and estimating in this new decade, feel free to contact your nearest Exactal office to learn more about what CostX® can do for you.