Award-Winning BIM Designs: Five Innovative Projects That Showcase the Future
The rise of Building Information Modelling has precipitated numerous advances in construction design worldwide, in terms of functionality, problem solving, aesthetics and other factors.
Given BIM has been at the heart of so many leading projects in recent years, several global BIM awards have been introduced to celebrate work that pushes the envelope and demonstrates the long-term value of BIM.
For our latest blog post, we have explored the form and function of five award-winning BIM projects that claimed prizes at the Tekla Global BIM Awards and Architizer A+ Awards last year.
Randselva Bridge
Honefoss, Norway
Best BIM Project & Best Infrastructure Project – Tekla Global BIM Awards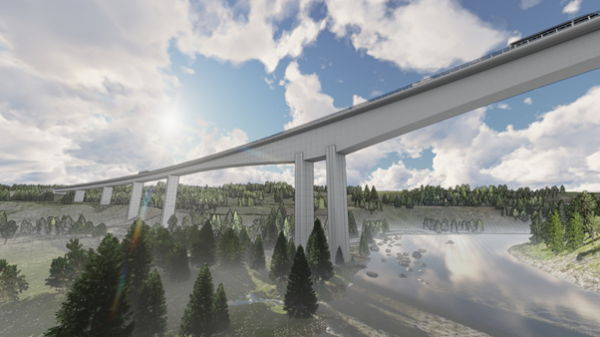 The winner of Best BIM Project & Best Infrastructure Project at the Tekla Global BIM Awards is a 634-metre cantilever concrete bridge based solely on BIM, and recognised as the longest bridge in the world to be built without drawings.
The Randselva Bridge project was based around hugely complex BIM modelling, with 200,000 rebars and 250 post-tensioning cables built into the model. The slender geometry of the bridge introduced some challenges, as very heavy reinforcement was necessary for the design. Design teams were based in four cities across four different countries, and collaborated effectively within a BIM environment where all objects were modelled for clash detection.
The contractor (PNC) received 95 per cent of all project information via IFC files, while the majority of project objects were modelled using parametric design to help streamline revisioning.
A major BIM benefit is in eliminating margin for error. Randselva Bridge has over 200 pour phases, and the contractor will be able to extract relevant bar-bending lists from the export IFC files as required.
The finished design is proof that BIM can be used to effectively facilitate large-scale projects, even if certain project parameters are difficult and design teams are working from different countries.

Building B310 – Technical University Denmark (DTU)
Kongens Lyngby, Denmark
Jury Winner Prize for Architecture +BIM – Architizer A+ Awards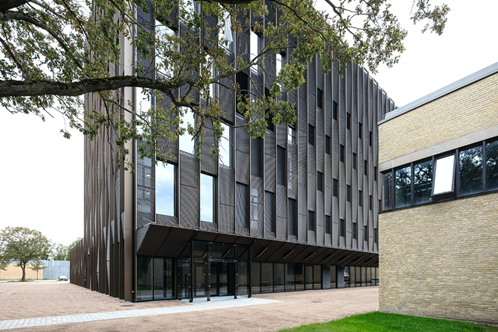 Christensen & Co Architects claimed the Jury Winner prize in the Architecture +BIM category at the Architizer A+ Awards in 2020. Their six-storey educational building at DTU Denmark was a 100 per cent digital project from initial design throughout the construction phase. This commitment even carried to the worksite itself, where construction workers carried out their building using digital drawings on their tablets.
Building B310 contains custom-designed research spaces and multi-purpose laboratories, with clients, contractors and advisors all collaborating in an openBIM environment to get the job done. With all stakeholders actively contributing to the project across multiple phases, potential issues were identified before they impacted the build.
The contemporary structure was designed to fit the overall aesthetic of DTU, with the building's façade folded into a canopy and large panoramic windows all around the complex. Building B310 demonstrates how BIM can empower architects to excel during design phases, with project teams able to confirm the feasibility of proposed work.

One Nine Elms
London, United Kingdom
Best Commercial Project – Tekla Global BIM Awards

One Nine Elms is a €330 million mixed-use development that will feature two stunning glass towers, and is set for completion in 2022. The development will contain commercial, residential and hotel features, as well as an underground carpark and energy centre.
BIM software was a driving force behind the 3-storey basement structure of the complex, up to and including the ground floor. SOLVE Structural Design were commissioned to work on the 3D RC detailing for these 3-storeys, which contained 30,000 cubic metres of concrete and over 4000 tons of reinforcement.
Complex 3D rebar models were used to identify potential problems, with areas of heavy congestion and significant bar clashes uncovered at an early stage. BIM supported the creation of final reinforcement layouts and sequencing that worked well for the contracting team across the project. In the end, the contracting team at Careys Civil Engineering were able to successfully complete one of the largest continuous concrete pours ever seen in London.
More and more large-scale commercial projects are turning to BIM workflows for complex logistical solutions. One Nine Elms is a great example of different enterprises combining their skillsets in a well-considered BIM environment.

TitletownTech
Wisconsin, United States
Popular Choice Winner for Architecture +BIM – Architizer A+ Awards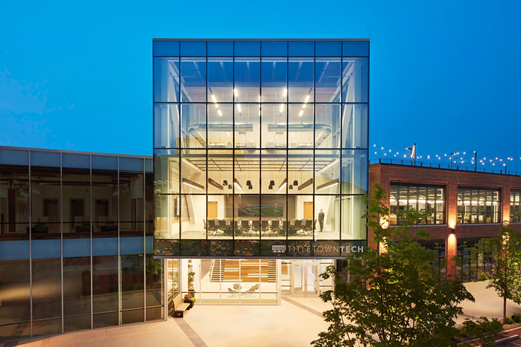 TitletownTech is a 45,000 square-foot commercial centre located in Wisconsin, which has been commissioned as a joint venture between the Green Bay Packers NFL franchise and Microsoft. The innovation centre acts as a corporate office for some Microsoft employees, as well as a meeting lab for entrepreneurs and regional businesses working on new ideas in sports, media and other fields.
From a design perspective, the cantilevered glass box at the entry of the centre resembles a trophy case, in a nod to the long-term sporting success of the region. Steel, bricks and dark woods also feature prominently as a reflection of the old mill buildings and industrial heritage of Wisconsin.
Architecture and design firm SGA utilised their own Virtual Design and Construction (VDC) environment when working on TitletownTech. This software suite incorporates Building Information Modelling, so the enterprise can maintain a model-first approach within their design work.

Lion and Eagle Transition Tower
Belgorod, Russia
Best Small Project – Tekla Global BIM Awards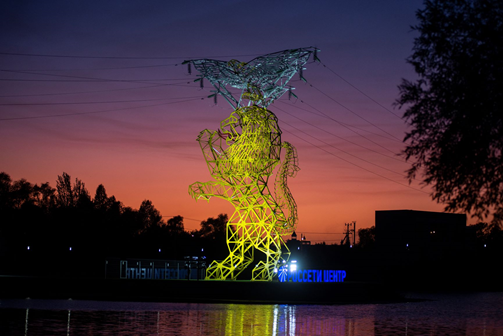 An eye-catching design from Russia took out Best Small Project at the Tekla Global BIM Awards in 2020. The 26-metre high, 33-tonne active transition tower is designed and coloured to match the Belgorod city coat of arms, and has proven a popular attraction among locals and visitors alike.
Steel construction modelling and drilldown status were supported by BIM on this project, which was made up of 5805 bolted joints and 5869 support parts. Hot dip galvanising was used to prevent corrosion in the structure, which was built on a foundation comprised of 91 cubic metres of concrete.
The end result delivered by Belenergomash BZEM LLC blends form, function and civic pride in an innovative project underpinned by BIM workflows.
Construct Advanced 5D BIM Projects with iTWO costX®
The designs detailed above demonstrate exactly what is possible with the latest generation of BIM software. Forward-thinking project teams are learning to unlock the manifold benefits of BIM across a wide scope of project types.
When it comes to quantity surveying and estimating, iTWO costX® represents an all-in-one solution for 5D BIM workflows. Our platform is constantly developed to suit the latest industry evolution, and combines a wide selection of features beyond 5D BIM, including auto-revisioning, spreadsheet-based workbooks, a custom report writer and more.
If you would like to experience iTWO costX® firsthand, don't hesitate to contact your local RIB office for more information.