BIM for SMEs- Is It Necessary?
The incentives of immersing into Building Information Modelling (BIM) for large-scale projects makes sense for big organizations, however, is BIM necessary for smaller firms? Many SMEs have solely been practising traditional 2D takeoff or even using the scale ruler for as long as they have been operating, and transitioning to the BIM workflow can seem an intimidating ordeal, particularly for firms with limited budget or specialized personnel. The fear of change has been implemented so that BIM appears to be exclusively for big companies, thus, SMEs have falsely assumed that they fall into the "not for us" category without exhausting a second thought. However, contrary to popular belief, the Royal Institution of Chartered Surveyors (RICS) revealed that BIM is equally used on projects between £10m – £15m and projects between £0.5-£1m; showing the benefits of BIM are not merely restricted to mega projects. In todays' post, we will explore why BIM is just as important (or even more so) for SMEs as it is for the big dogs.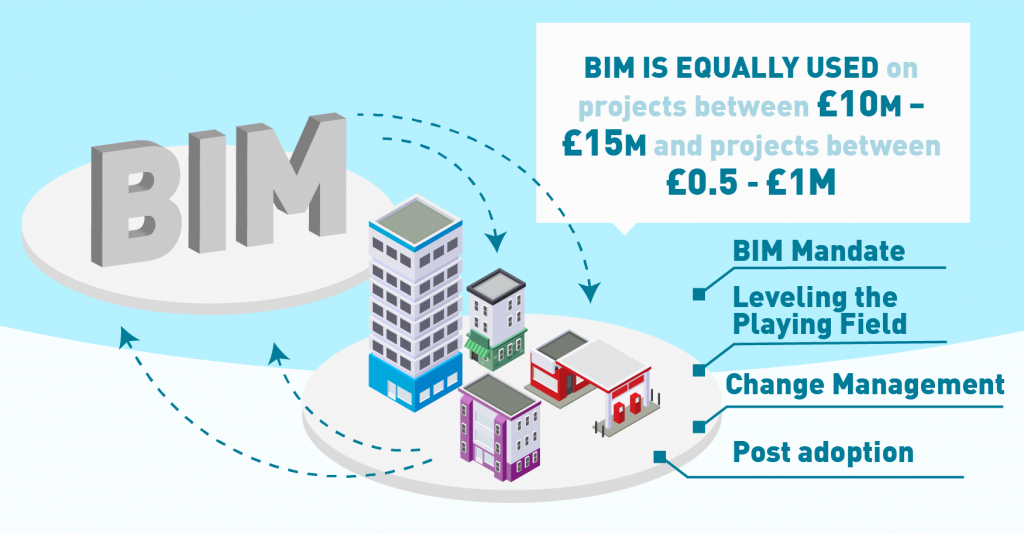 1. BIM MANDATE
Although it is currently possible to work without BIM, the proven benefits of reducing costs, enhancing collaboration across the supply chain, lowering carbon footprint, and improving quality of customer outcomes (just to name a few) is sufficient enough to make BIM the global industry standard. Various levels of BIM mandate have already been implemented into places such as the United Kingdom, France, Singapore and multiple countries in Scandinavia. If nothing else, the BIM mandate provides a strategic motive for SMEs to jump onto the BIM wagon – especially if they don't want to be closed off from centrally procured government projects.
At the UK BIM4SME Group launch Chloe Smith, Cabinet Office Minister, voiced that SMEs should not feel excluded from the drive to adopt BIM across the construction industry. Instead, she encouraged SMEs to welcome BIM as a catalyst for growth and noted that BIM will be a great leveller in helping SMEs compete with much bigger organisations by opening doors to larger markets, in addition to exploiting new and more efficient ways of working. RICS further reinforced the point by noting that the construction sector is primarily built upon smaller businesses, and without the SMEs there would be no construction sector at all. It is not a case of whether SMEs should be involved with BIM or not, rather, it is inevitable that SMEs must be involved, otherwise the sector will suffer from industrial fragmentation.
2. LEVELING THE PLAYING FIELD
It is no secret that BIM continues to evolve with incremental modules such as 4D BIM all the way up to 7D BIM. The associated software facilitating the BIM workflow has likewise grown in terms of functionalities and capabilities, further widening the gap between old and contemporary practises. Therefore, smaller firms heavily relying on 2D CAD methodologies will find themselves handicapped. Geoffrey Tears of Mohle Design, US explained that one of the biggest issues for them in receiving larger projects was the competition. "It was tougher for our firm to show up with just 2D drawings and space plans and elevations, compared to some of those bigger firms that were competing for the same jobs and would have renderings and walkthroughs. Any bit of information that they needed to take out, they had, and when you show a client a 3D model and start spinning it around, it kind of blows their mind."
The cruel reality is that smaller firms can typically find themselves competing within the same realms of much larger companies. Routinely, SMEs are incapacitated due to the presumed lack of sophistication when pitching against known BIM practitioners. To triumph in such scenarios, SMEs need to start leveraging BIM and level the playing field – it is pointless bringing swords into a gun fight. BIM and the corresponding software demonstrates sophistication and brings credibility to the table, even if a firm is of a smaller size. Not only does harnessing BIM technologies aid SMEs in winning projects, it also aids customer retention. For clients, the most crucial aspect of any project is delivery within the determined time frame and budget. With BIM, companies are able to collaborate and produce precise construction documents which subsequently allows for a more accurate schedule and predicted costs – ultimately opening doors for repeat customers.
3. CHANGE MANAGEMENT
It is evident that BIM is not just for large companies, yet, the processes associated with adopting BIM can also be seen as a major restricting factor for SMEs. A common misconception is that you can simply purchase 'BIM' and be a high roller in no time. Unfortunately, this is a great pitfall which leaves a lot of firms in a state of vulnerability. BIM is not a software, it is about changing the way you work, the management and the way of delivering projects. When it comes to "change management", SMEs hold the advantage over bigger firms due to the lack of institutional bureaucracy, which otherwise hinders, prolongs and in some cases even inhibits adoption.
In SMEs, decisions are generally made more quickly and implementation more simple. Rather than having an extensive implementation plan which will certainly be reviewed and amened numerous times, SMEs can enjoy a less stressful and shortened implementation phase while experiencing less disruption. Cultural resistance to change is also less apparent and much more manageable in SMEs.
4. POST ADOPTION
Once BIM has been implemented, RICS notes that a firm generally experiences an increase in efficiency of up to 30%. BIM aids in creating a leaner project by mitigating design failures, plus saves time and resources – the essence of a SME. BIM also allows SMEs to partake in a wider range of projects and further gives them an advantage when decisions can be made much more quickly; this higher level of responsiveness allowing them to stay ahead of larger companies in a dynamic marketspace. Geoffrey Tears of Mohle Design, US notes that "BIM is a business opportunity to get on the right path for the next 15 years. You'll eventually look back and wonder why BIM was even a conversation. It means you will be leaner and win more work and/or become more competitive. But it's a medium to long-term game. Taking a short-term view would be a mistake as you're unlikely to get a return on investment within a few months."
If you're an SME looking into how BIM could improve your QS or estimating business, and wondering where to start, we can help. Just call or email us here and schedule for a free web demonstration of CostX with one of our Product Specialists today!