Case Studies in Collaboration: Three Innovative and Striking Projects Designed with BIM
The rise of Building Information Modelling in construction has paved the way for many of the ambitious creations we are seeing in today's built environment. With detailed repositories of information able to back up the decision-making process, designers have more confidence than ever to aim high.
Below are three recently completed projects that have been delivered with the help of BIM. All three of these impressive builds showcase the value of single shared models for collaboration, from conception through to project completion.
Emerson College
Los Angeles, USA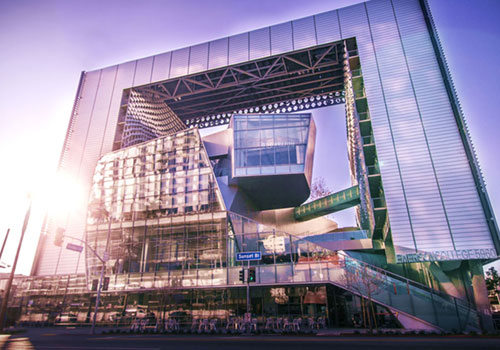 IMAGE SOURCE:
Emerson College
You'll find Emerson College nestled in the beating heart of Hollywood, an asymmetrical urban development fully designed in a BIM environment.
The recently-opened home of a college undergraduate program is composed of two residential towers that are linked by a dazzling, weaved structure that houses a number of facilities. Event and retail spaces, offices, a fitness centre and classrooms can all be found within Emerson College.
The facility cost approximately $85 million US to construct and is a prime example of the value of BIM for collaboration over the lifecycle of a project. Designers at Morphosis Architects used information modelling from the very start of their process, collaborating within a common data environment to develop a proposal. Additional data such as performance criteria and specifications were linked to the models in question.
The intelligence of BIM continued to provide value during the complex build, with contractors able to access up-to-date models in real-time to complete the ambitious design.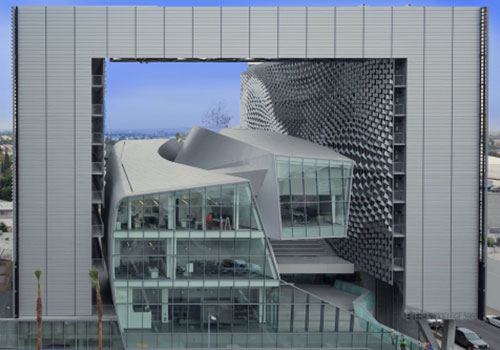 IMAGE SOURCE:
Business Wire
The Opera House at Downtown Dubai (OHDD)
Dubai, United Arab Emirates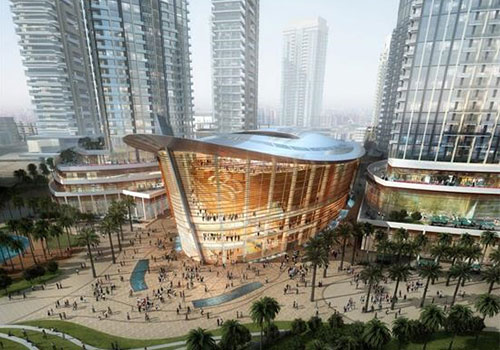 IMAGE SOURCE:
The B1M
Dubai is home to a number of world-famous structures such as the Burj Khalifa, and this recently-opened performance centre in the nearby Opera District is just as striking. Shaped like a sailing vessel in a nod to the Emirate's maritime past, the OHDD is a multi-purpose entertainment venue that has been designed to maximise views into and out from the structure.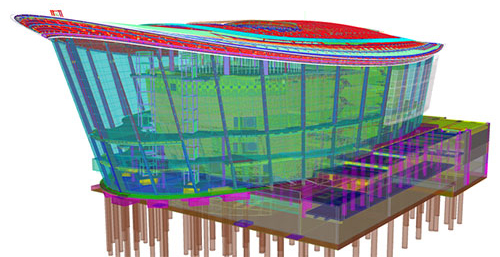 IMAGE SOURCE:
Tekla
The Atkins-designed public space utilises hydraulic technology to allow for three different configurations for performances and is draped in a curved roof made from 3600 tons of steel.
The project's designers utilised 3D design tools to coordinate various elements and boost collaboration on the build. The complex 3D models used for the roof of the structure helped designers identify interfacing difficulties and clashes early in the process.
Len Lye Centre/Govett-Brewster Art Gallery
New Plymouth, New Zealand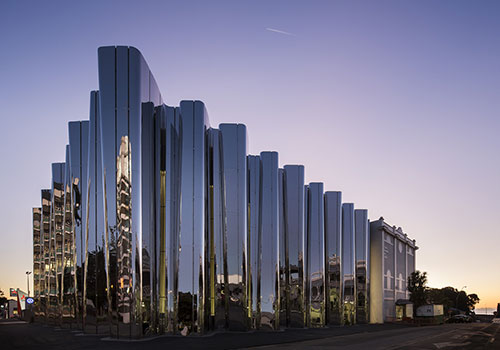 IMAGE SOURCE:
Pattersons Associates
Built in tribute to a famous New Zealand artist, the Len Lye Centre is a 3000 square metre art and cultural precinct in the North Island city of New Plymouth. Designed by Patterson Associates, the building is most famous for its sequence of 14-metre high columns, made from pre-cast concrete and covered in polished stainless steel.
The design of the façade intends to link the interior and exterior of the building, with natural light reflected inside during the day and artificial light reflected outside at night. The complex physical geometry of the structure necessitated a BIM environment for project delivery.
Project teams utilised a common data environment for collaboration, exporting their graphical models into IFC format for consistency. By successfully coordinating their efforts, the final design produced was effectively the finished product of the museum.
As the designers had to adhere to strict indoor climate criteria, the placement of the reflective columns was of great importance. Information models were used to simulate the stream of sunlight into the building, as demonstrated below.
IMAGE SOURCE:
The B1M
For more information about these projects and other impressive BIM builds, take a look at the Case Studies section of the B1M website.
Implement BIM for Your Business with Exactal
Building Information Modelling is growing in adoption throughout the world, and with good reason. The model-based approach adds value from design through to project completion.
While these projects showcase BIM functionality on a large scale, smaller businesses can see their processes and collaboration potential boosted with BIM as well. Exactal's CostX® range combines advanced 5D BIM support with 2D takeoff, powerful workbooks and professional report production.
To learn more about the potential of CostX®, or to organise a demonstration for your business, don't hesitate to get in contact with our knowledgeable team.