CostX® Consultant Series: Modular Construction in Asia
For our latest blog post, Asia Consultant and Sales Manager Clarence Mak looked at the rise of modular solutions in the Asian construction industry, with businesses looking for better building methods to improve productivity.
There is a growing demand for prefabricated buildings in Asia's construction industry in recent years. Rapid urbanisation, tight construction schedules, shortage of labour and unique site conditions are the major factors that have contributed to this growing trend of building with prefabricated techniques. This off-site construction approach is further aided by continuous advancement in BIM and automated building technologies.
Modular Integrated Construction (MiC) and Design for Manufacturing and Assembly (DfMA) construction methods are aimed at replacing traditional on-site construction with off-site prefabricated modules made ready for on-site assembly. The former refers to the practice of creating integrated modules offsite and then transporting them to the build site for assembly, while the latter is all about design considerations to ensure manufacture and assembly of components is as easy and consistent as possible.
There are many components currently available for MiC and DfMA methods, with a variety of construction projects able to be expedited as a result. The Building and Construction Authority Singapore have published a guidebook regarding Prefabricated Prefinished Volumetric Construction, with many great insights on the technique. The image below shows how a typical two bedroom unit can be constructed with four simple components.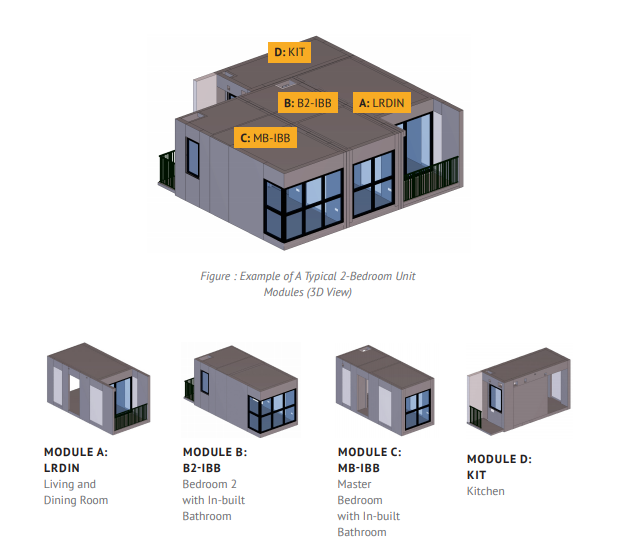 According to the BCA and the Construction Industry Council Hong Kong, there are a wide variety of benefits to these modular techniques, including:
Shorter Construction Duration – Work can be completed offsite at the same time as other building processes are carried out, reducing the construction time and the amount of personnel required onsite. Construction time is reduced on average by 30%, while there is a lesser potential impact posed by adverse weather conditions during the construction period.
Improved Workmanship – Stringent quality control in prefabrication factories may lead to better outcomes and less rework.
Reduced Local Area Disruption – As less construction work is carried out onsite and durations are shorter, it causes less disruption to the community.
Improved Working Environment & Site Safety – These techniques may protect workers against adverse weather, reduce risk of falling from heights and reduce risk of slipping and tripping of site personnel.
Sustainability and Environmental Friendliness – Reduced dust and noise nuisance to the surrounding environment. Minimised construction waste and improved outcomes regarding waste management are achievable.
Better Management – Improved management of stored materials and enhanced production management in a controlled factory environment.
5D BIM and CostX® for Prefabrication Processes
The materials used in modular designs in BIM can be effectively quantified and priced using CostX®. Historic cost data can be stored and updated to derive the current cost, while cost comparisons between various design alternatives can be made via the auto-revisioning capability of our software.
If you would like to learn more about the potential of CostX® for businesses adopting modular techniques, feel free to contact your nearest Exactal office today!