Expo 2020: Latest Architectural Visions for the World's Greatest Show
There is only one year remaining until Expo 2020 commences in Dubai, with the showcase of innovation opening its doors on October 20 2020. The exhibition is being promoted as the World's Greatest Show, and there will certainly be plenty to marvel at from an architectural perspective.
Last year we examined some of the early dynamic designs for national pavilions, covering the planned structures from the United Arab Emirates, United Kingdom, Germany, New Zealand and the Czech Republic.
Architectural visions for more national pavilions have been confirmed since then. For our latest blog post, we will examine some of the more striking features that are tipped to grab attention when the Expo opens next year.
France Pavilion
Light, Lights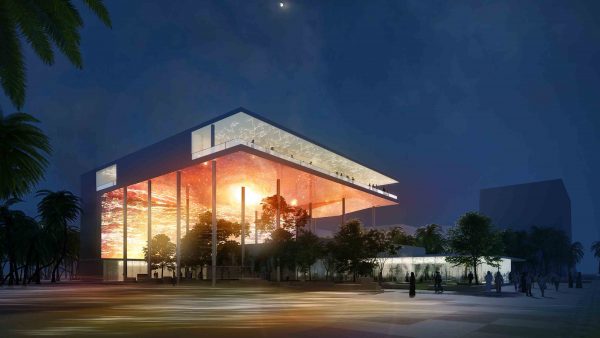 In their own words, the French offering at Expo 2020 is 'smart, recyclable, and sheds light on forward-looking visions and possibilities.' Designed by Atelier du Prado Architectes and Celnikier & Grabli, the pavilion is inspired by the 18th century Age of Enlightenment.
Light, Lights seeks to explore the concept of light as an enabler of progress, vehicle for connections and source of heat and creativity. 1000m2 of permanent exhibition space will be featured in the pavilion, with visitors plunged into a space filled with light, sounds, scents and materials as they venture through three different areas titled Immersion(s), Perception(s) and Reflection(s).
Over 80 per cent of the energy used in Light, Lights is produced by the pavilion itself. The protective shell of the pavilion is covered with solar panels, while a micro purification system limits water wastage and the building interior is cooled naturally by design.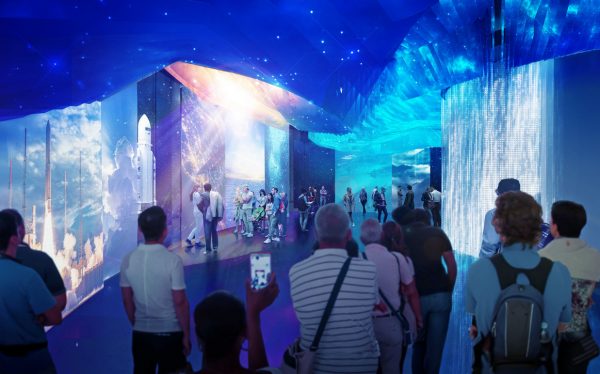 Italy Pavilion
Beauty Connects People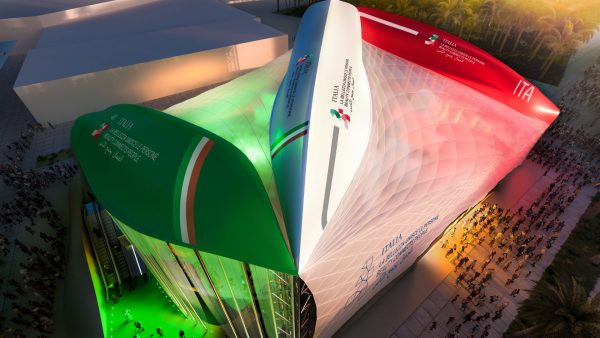 The Mediterranean nation's pavilion is set under the overturned hulls of three ships, resembling petals that are arranged to look like the il Tricolore flag. It also acts as a tribute to a long history of explorers sailing the seas to weave together Mediterranean cultural heritage.
The 3500 square metre pavilion is a collaborative effort between Carlo Ratti, Italo Rota, Matteo Gatto and F & M Engineering. Visitors can enjoy 'beautiful spaces inspired by the traditional Italian piazze, gardens, landscapes and territories,' as they traverse a path through history to the future.
Italy's pavilion will also highlight the circular economy that the nation is famous for, with reference to minimising waste through reusing, repurposing and recycling.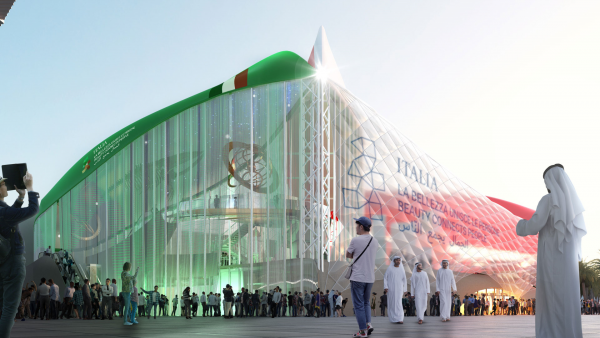 Saudi Arabia Pavilion
The Sky Is The Limit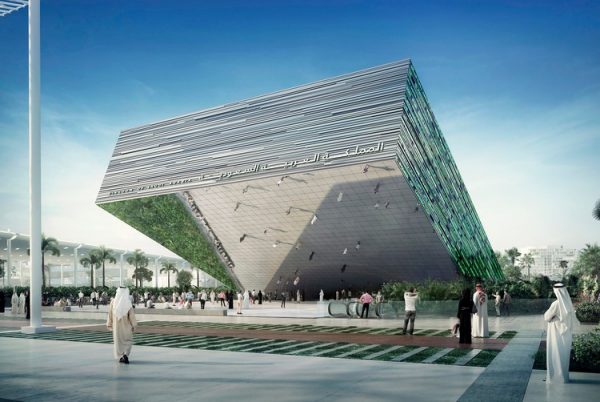 Saudi Arabia's contribution to Expo 2020 will be the second-largest national pavilion, behind only the host nation United Arab Emirates. Their design seeks to represent a 'window to the future', symbolic of the nation's 'welcoming character, long heritage and unlimited drive.'
The rectangular pavilion is designed by Boris Micka Associates, and will stand at an angle to resemble a window opening from the ground and projecting into the sky. Once inside, visitors will follow a long path which displays the history of the kingdom and their willingness to work with other nations.
The unlimited ambition of Saudi Arabia is represented in the design. An extra dimension to the aesthetic appearance will be visible at night, as shown below.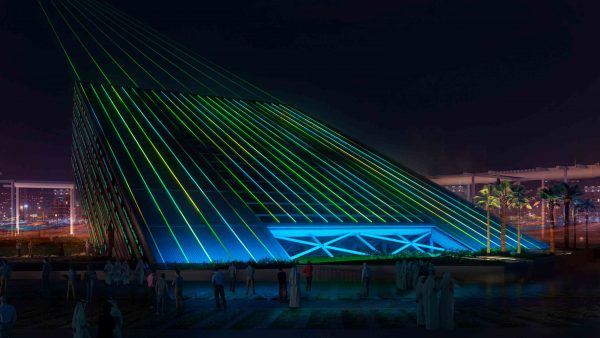 Singapore Pavilion
Nature, Nurture, Future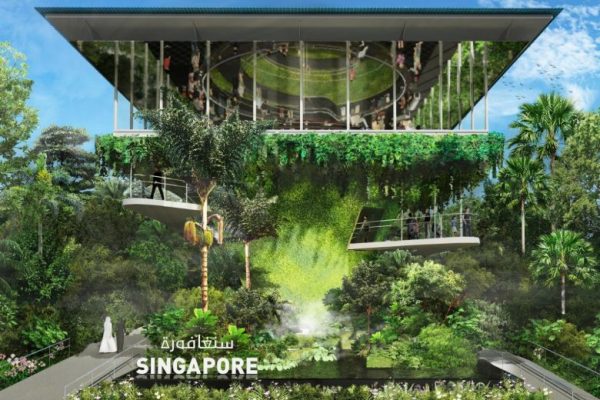 Much like the island city-state itself, Singapore's offering seeks to represent a city in a garden. The pavilion is led by the Urban Redevelopment Authority (URA), Singapore's planning and conservation agency, who are committed to the long-term sustainable development of the city's living environment.
Designed by WOHA, Nature, Nurture, Future is a net-zero emission showcase powered by a self-sustaining ecosystem. Visitors will experience the story of Singapore through interactive exhibits, all within a 3D rainforest backdrop. After walking past giant garden cones in the verdant ground valley, visitors will rise through the rainforest canopy to eventually reach a spectacular hanging garden deck.
Singapore is regarded as a highly liveable and sustainable city, and their 2020 pavilion will act as a striking showcase to their innovation in the built environment.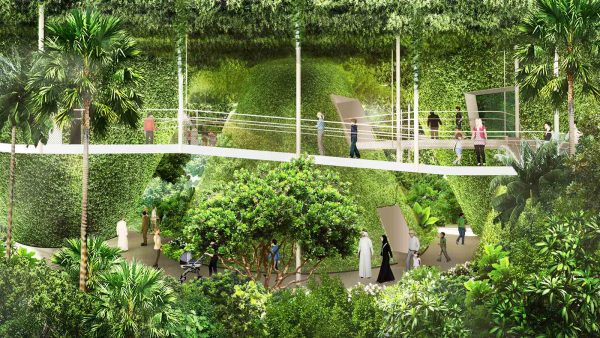 United States of America Pavilion
What Moves You? The Spirit Of Mobility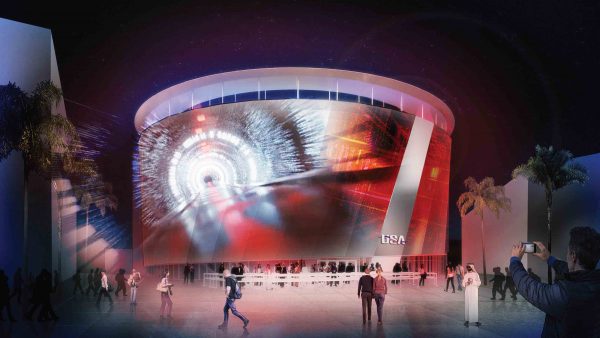 The United States offering at Expo 2020 is a collaborative effort between 13 leading American organisations, seeking to display the past and future of American innovation. American architect Curtis W. Fentress was responsible for the structural design of the circular pavilion, which utilises slants to give the impression that the whole pavilion is moving.
Inside, visitors will get to experience a number of American concepts and innovations, beginning with a Hyperloop simulation that details a high-speed trip from the UAE to the United States. Elsewhere in the expansive pavilion, visitors will find exhibits related to future modes of transportation, brain-connected technologies, 3D-printed prosthetics and much more. The diverse nature of the United States will also be demonstrated through music, theatre, dance, art, literature, food and sport at Expo 2020.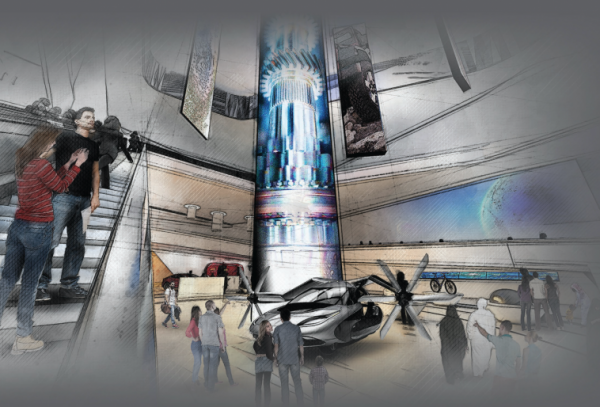 Numerous other national pavilions have now been unveiled for Expo 2020. More planned architecture for the event can be found here on the Expo 2020 website.
Reach out to Exactal's UAE Team Today
Expo 2020 is far from the only ambitious project currently underway in the Middle East, and our CostX® estimating solution is being used by enterprises across the region to improve efficiency.
Exactal have been operating an office in Dubai since 2018, so clients using CostX® can rely upon timely product support as they work. To get in touch with any of Exactal's nine worldwide offices, don't hesitate to contact your local team today.