Form Plus Function: Five Striking and Sustainable Architectural Designs
Cost-efficiency and minimised environmental impact will be vital considerations on major projects for the foreseeable future. For contemporary architects however, these factors don't necessarily come at the expense of aesthetics.
For our latest blog post, we have explored five green designs from around the world that have successfully melded form and function, setting a benchmark for architectural designs of the future.
Bahrain World Trade Center 1 and 2
Manama, Bahrain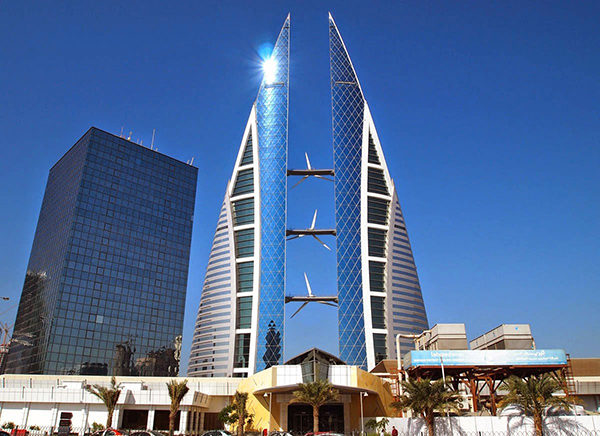 IMAGE SOURCE: E-Architect
This Atkins-designed twin-tower complex is a striking feature of the Manama cityscape. The Bahrain World Trade Center is renowned for its three large-scale wind turbines (each 29m in diameter), set between two sail-shaped office towers that rise to 50 storeys. Three skybridges link the two towers, which are shaped as sails in a nod to wind power and the ancient maritime heritage of the region.
Before this structure was completed in 2008, wind turbines were unprecedented for skyscraper design. The three WTC turbines are aligned north to capture air from the Persian Gulf, with the two towers slanted inwards for greater airflow into the turbines. 15 per cent of the building's total energy demands can be provided when the turbines are running at full capacity. The project has been widely recognised for its ingenuity and has received several awards for sustainability. When unveiled, the WTC was seen as a significant step forward for incorporating sustainable elements in local architecture.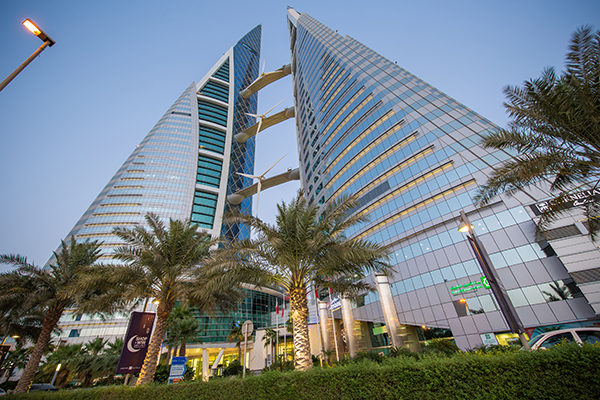 IMAGE SOURCE: ABCN
One Central Park
Sydney, Australia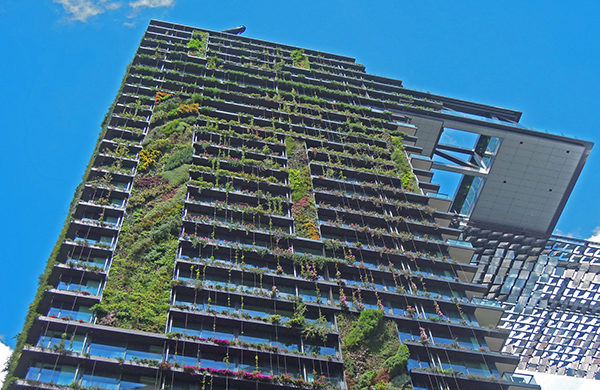 IMAGE SOURCE: Patrick Blanc
One of the most celebrated recent green designs can be found Down Under at Sydney's mixed-use One Central Park complex. Half of the building's facade is adorned with vertical vines, green walls and planter boxes, designed in collaboration with celebrated botanist Patrick Blanc. These hydroponic walls and gardens are comprised of 35 different plant species, providing shade for those living in the apartment complex.
The most striking component of the Ateliers Jean Nouvel and PTW Architects design can be found on the eastern tower. The pinnacle of One Central Park features a hovering cantilever and motorised mirror arrangement, which directs sunrays down onto the gardens of Central Park. At night, these mirrors serve as a canvas for an LED light display by renowned conceptual artist Yann Kersalé.
As for sustainability, One Central Park features a thermal tri-generation plant onsite to supply electricity, heating and cooling, in addition to a Membrane Bioreactor (MBR) water recycling plant. The urban precinct was recognised for these initiatives with a 5 star Green Star rating from the Green Building Council of Australia.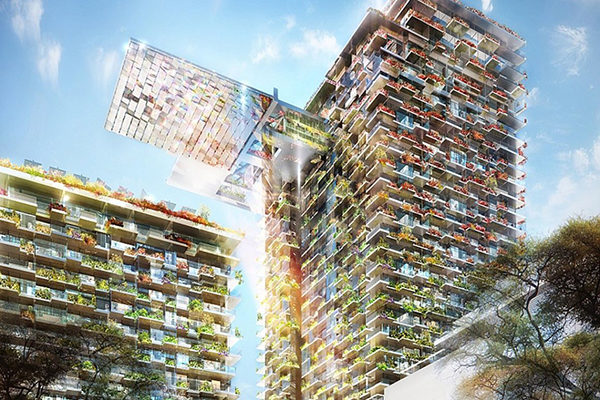 IMAGE SOURCE: Urban Greens
ACROS Fukuoka Prefectural International Hall

Fukuoka, Japan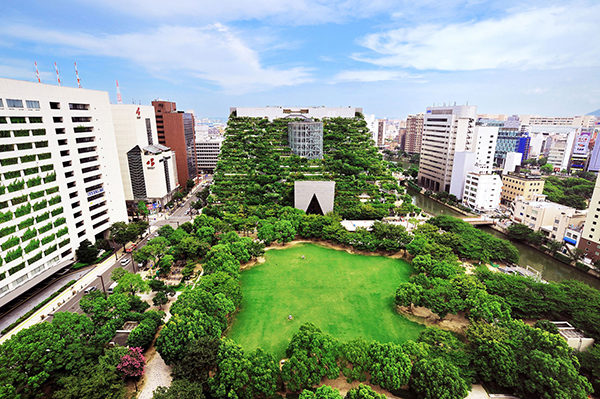 IMAGE SOURCE: Green Roofs
Green building initiatives are not necessarily a recent advent. In 1995, architects Emilio Ambasz and Associates came up with an ingenious solution to complete their commercial design, without encroaching on the public green space next to the building site.
The ACROS Fukuoka Prefectural International Hall looks like a conventional glass-walled office building on one side, but on the other is a large terraced roof covered in around 35,000 plants of 76 different species. A large, semicircular atrium crowns the terraced section of the building, acting as a contrast to the surrounding vegetation.
This design was borne of public pressure from locals, who were concerned that the last remaining public green space in Fukuoka would be mitigated. The resultant green roof captures rainwater runoff, naturally controls temperatures within the building, and even houses a number of insects and birds. Reducing impact on surrounding people and businesses is key to sustainable building, and this is a fantastic example of turning a design challenge into an opportunity.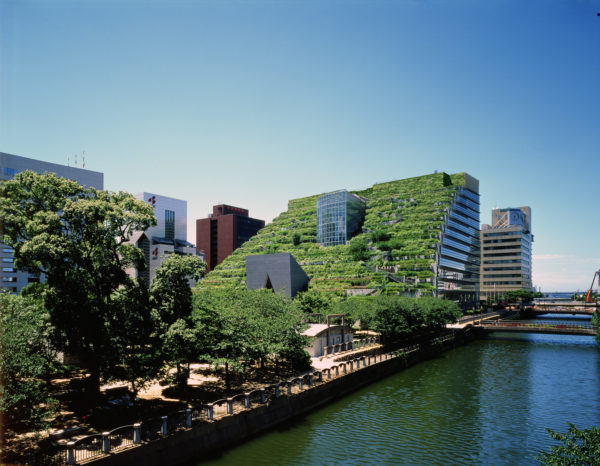 IMAGE SOURCE: Green Roofs
One Angel Square
Manchester, United Kingdom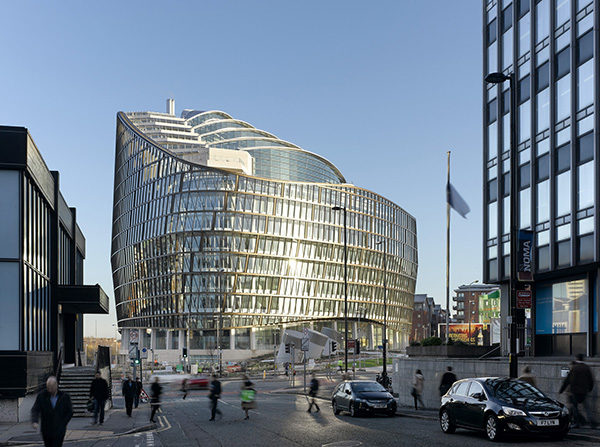 IMAGE SOURCE: ArchDaily
Designed by 3DReid and opened in 2013, this Manchester office complex is the home of The Co-operative Bank and features 328,000 sq ft of flexible office space and groundbreaking concepts for sustainable design.
One Angel Square features a double-skinned façade for effective temperature control throughout the year, and is future-proofed for predicted rising temperatures. The building even boasts its own combined heat and power (CHP) plant, which utilises waste cooking oil and biofuel to function. Aesthetically, the soaring open atrium and louvres atop the building's facade make for a striking design.
Underground earth tubes provide geothermal energy for heating and cooling, while smart IT systems are deployed to generate heat recovery. There is also low-energy lighting installed, as well as greywater and rainwater recycling.
These are far from the only sustainable features built into One Angel Square. The building was given a BREEAM score of 95.16% by the Building Research Establishment, making it the first structure to be certified as 'Outstanding' in the United Kingdom.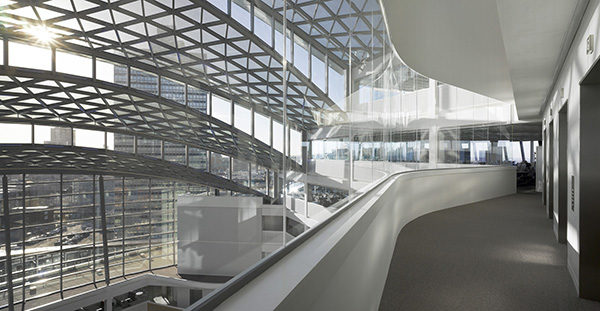 IMAGE SOURCE: ArchDaily
Shilda Winery
Kakheti, Georgia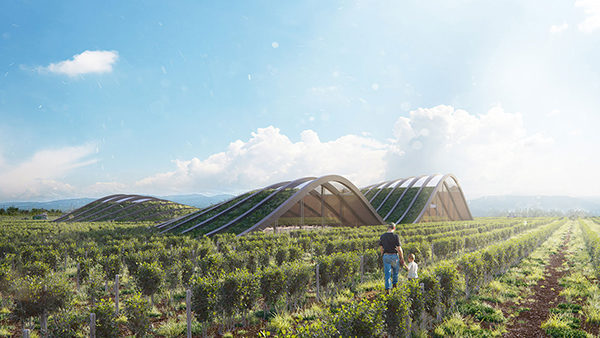 IMAGE SOURCE: X-Architecture
Many modern designs seek to incorporate or blend with surrounding habitats, but rarely is this achieved as stylishly as the 2016 Shilda Winery project. This high-concept design is the brainchild of X-Architecture, a studio operated from London and Tbilisi. Shilda is composed of three 'hills' in a complex, one for wine tasting, one for wine storage and one for knowledge sharing.
The three buildings are barely perceptible from a bird's eye view, with the 2.5 metre spacing of the vineyard articulated in the structures both internally and externally. As for sustainability, X-Architecture state that '…the building uses the thermal mass of the soil to moderate the internal temperature, where the wine is stored, served and tasted.' The majority of Shilda's façade is oriented to the north, to mitigate the direct solar gain which is common in the region and reduce energy usage.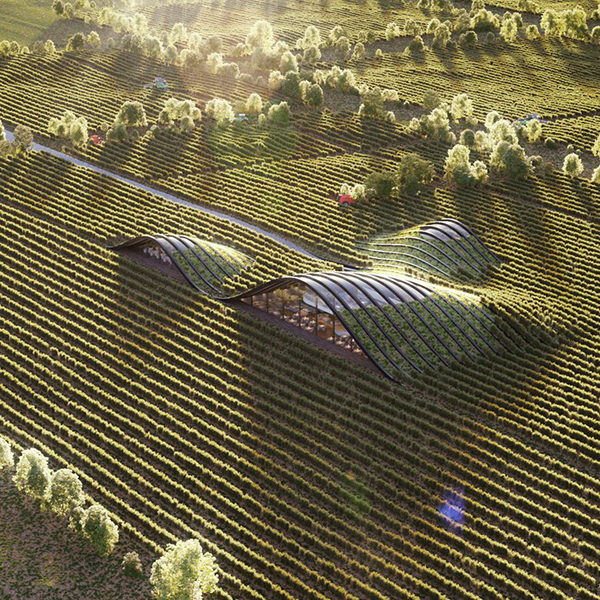 IMAGE SOURCE: X-Architecture
Streamline Your Complex Estimating Processes With iTWO costX®
RIB's iTWO costX® takeoff and estimating platform is an all-in-one solution for businesses large and small. Quantity surveyors and estimators in more than 90 countries worldwide have placed their trust in iTWO costX®, and the platform is constantly evolving to suit the latest industry requirements.
To find out more about the integrated features on offer, feel free to contact your local RIB office today!