An Industry in Recovery: Global Construction Output on the Rise
The Royal Institution of Chartered Surveyors (RICS) Global Construction Monitor was recently released for Q2 2021, and it paints a promising picture of our industry's resurgence.
The RICS Global Construction Monitor is a quarterly survey that is conducted across construction and infrastructure markets in Europe, the Asia Pacific, United Kingdom, North America, Africa and the Middle East. For Q2, a total of 1960 company responses were aggregated to produce a sentiment indicator that portrays output growth or contraction across the construction industry.
For our latest blog post, we'll be delving deep into the Q2 results to see what they tell us about the construction state of play in different world regions.
Europe and the Americas Lead the Way
A year is a long time in construction, and there has been a noted turnaround since Q2 2020 as far as the global Construction Activity Index is concerned. Last year's second quarter saw a -24 global metric in the wake of COVID-19's arrival, while Q2 2021's overall result is a +25. While this bounceback has varied across world regions, the chart below shows a remarkably consistent return to form across the last five quarters.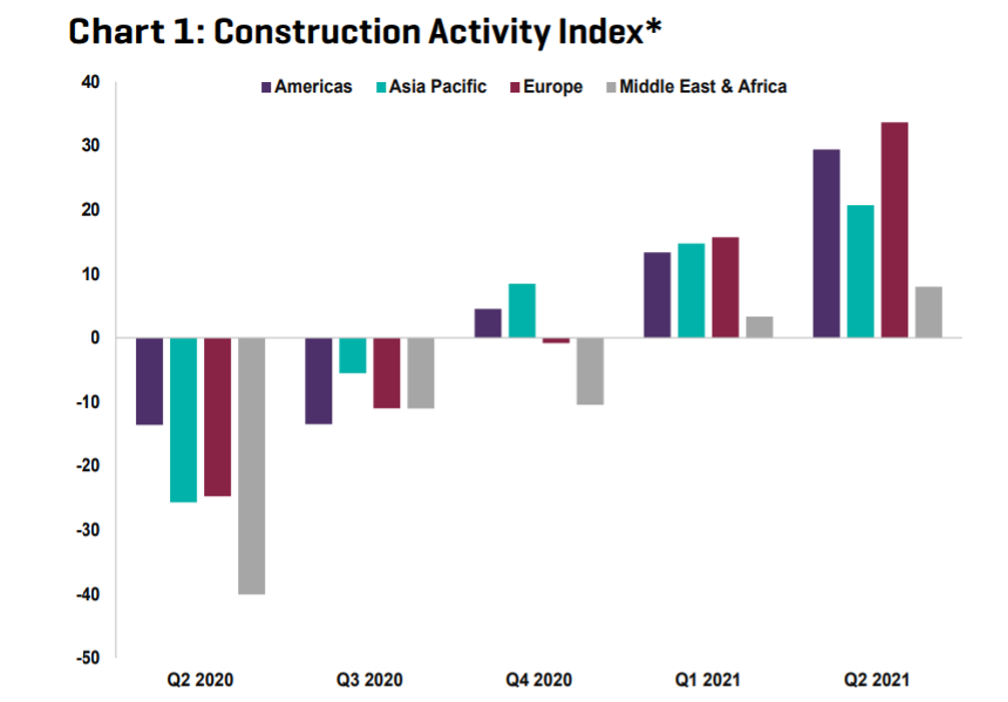 In terms of specific regions, Europe (+34) and the Americas (+29) were the best performers in Q2 2021, followed by Asia Pacific (+21) and the Middle East (+8).
For Europe, private residential and infrastructure workloads were reported to have risen sharply, with 12-month projections and expectations across all categories showing improvement over last quarter's metrics. For the Americas, there is seen to be great potential for private non-residential/commercial workloads, as well as solid potential in infrastructure projects.
Asia Pacific and the Middle East recorded more modest results, although both have built positively upon Q1 metrics and look set to keep improving despite challenges. Some individual countries such as Oman and Malaysia did record negative results in the index, where slowdowns took hold due to issues such as lockdowns and skills/labour shortages.
Positive Projections on Workloads and Employment Levels
Respondents are predicting growth in the year to come across infrastructure workloads, with a net positive of +57% believing that opportunities will improve further. It's a similar story for residential and private non-residential workloads (46% and 34%), which demonstrates the widespread confidence in our industry's recovery.
As for employment levels, almost 90% of the markets covered by the Global Construction Monitor envisage positive trends in the upcoming twelve months, with the Philippines, Poland, the Netherlands and New Zealand all expecting significantly increased headcounts in the coming year.
Concerns Persist for Rising Material Costs
While the results of the Q2 survey are largely positive, there have been problems that are mitigating growth potential around the world.
Pressures related to material costs were cited as an impediment to growth for 83% of respondents across this study. In many regions, overall construction cost forecasts are elevated, and rising material costs were often cited as a major contributing factor. Twelve-month projections for material cost inflation have risen too, so it doesn't seem like the issue will subside in the near future.
Financial constraints, as well as material, labour and skills shortages were also reported by approximately 65% of respondents to the survey.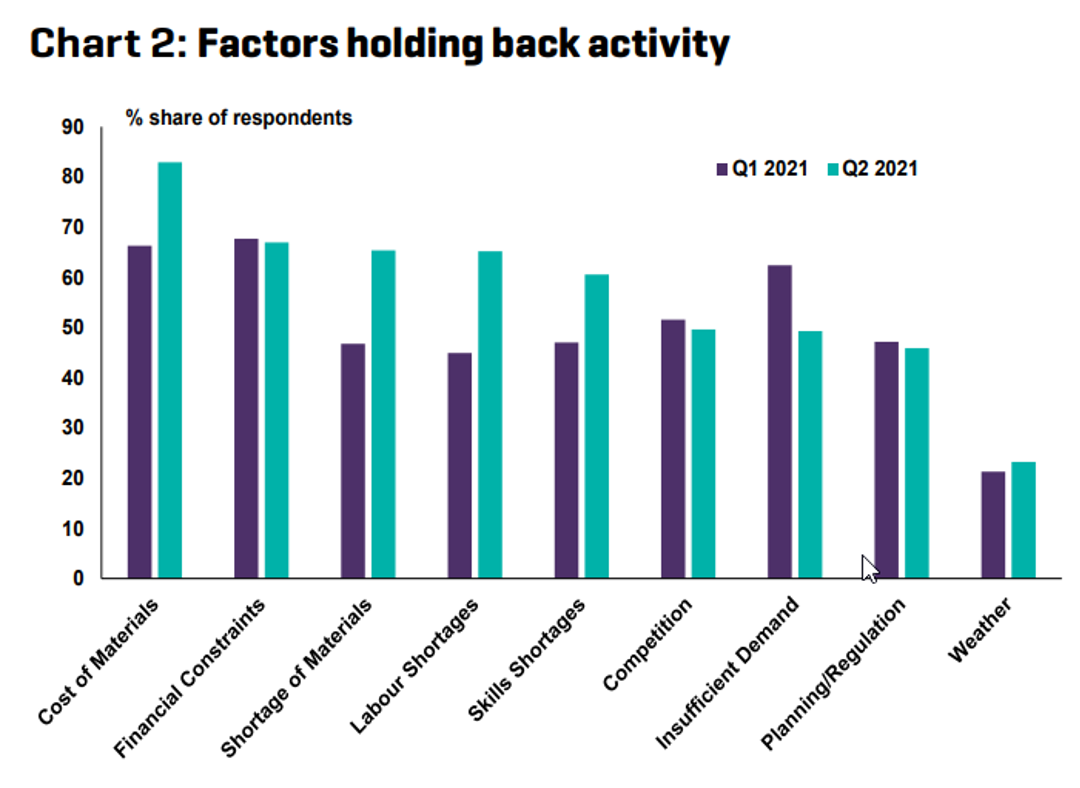 The full RICS report into global construction output in Q2 2021 can be found on the RICS website.
Build Your Estimating Potential with iTWO costX®
Quantity surveying and estimating firms looking to expand their business require advanced and future-proof software that they can rely upon.
iTWO costX® by RIB is the software of choice for enterprises in more than 90 countries worldwide, with the platform constantly developed to suit the latest industry requirements. The solution combines 2D and 3D/BIM takeoff with spreadsheet-based workbooks, auto-revisioning, subcontractor comparison, a custom report writer and much more.
Looking to advance your estimating with iTWO costX®? Feel free to contact your local RIB office today to organise a demonstration!