My Favourite CostX® Feature: Zones
Each month we will ask a Product Specialist at Exactal what their favourite feature of CostX® is, and how it can be used. This month, we are speaking to New Zealand-based Product Specialist Johnathan Mudrovcic.
This might sound familiar- You have completed your estimate for a project where there are three multi-storey buildings on one site. You have submitted your estimate to the client or your director. They revert back to you and request for you to please provide three separate estimates instead- one for each building, whilst also still maintaining the overall estimate that you have already submitted. Oh… and they need it submitted within a week… Within a split second, your workload just quadrupled and all of this needs to be completed within a quarter of the usual time frame.
A week goes by… you have managed to submit your four estimates back to the client or your director. However, they've reverted back to you again and asked for you to breakdown the cost even further, plus provide an estimate for each level of each multi-storey building. Your workload has just increased exponentially and you're thinking: "I might have to call my partner and let them know I won't be able to see the kids for the next week!"
I'm sure anybody in the construction industry would appreciate and understand how the total cost of a construction project might need to be analysed and reported on using different perspectives, similar to the example above; but also, how frustrating it can be if you're trying to do it manually!
Within CostX®, the Zones functionality allows the user to capture measurements against specific attributes of the project, such as different departments, basements, podiums, towers, Stages, Phases etc. All of this can be managed whilst working on one estimate in CostX®, hence the reason for Zones being my favourite feature in the program.
How are they created? Zones are generated with the Project in System Administration and preferably need to be determined at project set-up stage. This can be done by either inserting new zones or alternately the zones already in existence may suffice. New zones can also be added later in Project Properties, and existing zoned dimensions can be re-allocated.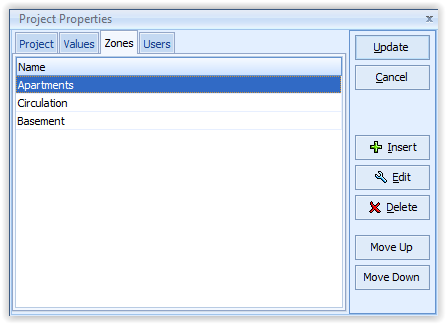 Prior to measuring a dimension, you just need to select the relevant zone from the drop-down list in the Dimensions ribbon. All measurements taken from then on are assigned to that zone. A different zone can be selected at any time, in which case all subsequent dimensions will be assigned to the new zone.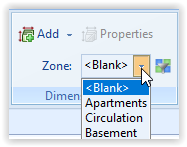 The zone of a Dimension Group or a Dimension can be changed at any point if required.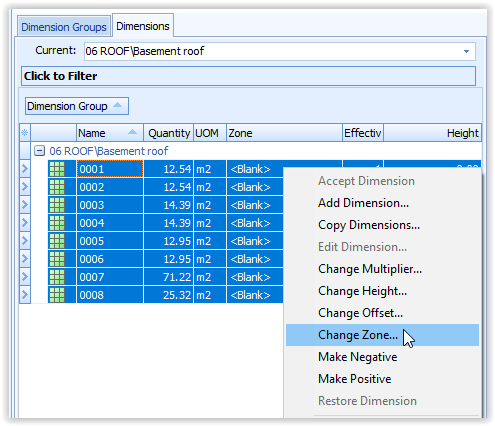 Dimensions can easily be filtered to only show the quantities for the selected zone using the filter button. Located on the Dimension ribbon to the right of the zone drop-down box, once it's on you can check the correct dimension allocation and verify zone content.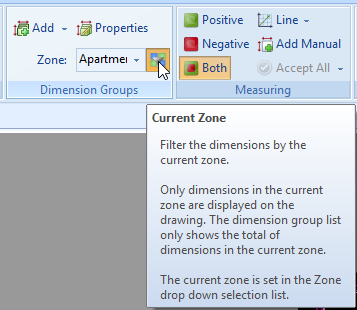 Workbooks also contain a zone filter function so that zone-specific workbooks and reports can be created.
Assuming you have live-linked your dimension groups into the workbook, the dimensions displayed in the new filtered workbook will be only those assigned to the current selected default zone. This in turn, adjusts the costs according to quantity changes in the workbook.
I personally love these small features that just make life a lot easier. If I had this feature available to me whilst being in the field, I would have definitely utilised it to its full potential. Plus, having a feature like Zones at your disposal means that you won't have to make any calls to your partner about working late due to those break-down reports- in fact, you might have enough time for a family holiday instead!