National Pavilions at Expo 2020: 5 of the Most Dynamic Designs So Far
Expo 2020 is just over two years away, but preparations for the six-month exposition are already in full swing. Dubai will host approximately 180 countries, with 25 million visitors from across the globe expected to attend the showcase of worldwide innovation and collaboration.
The World Expo is organised every five years, and the upcoming event in 2020 will be the first time it has been held in the Middle East. Another first for Expo 2020 will be that every participating country gets to showcase their contribution with a national pavilion.
Several national pavilion plans have already been confirmed, and we have taken a look at some of the more innovative and striking architectural designs announced thus far.
United Arab Emirates
'Connecting Minds, Creating the Future'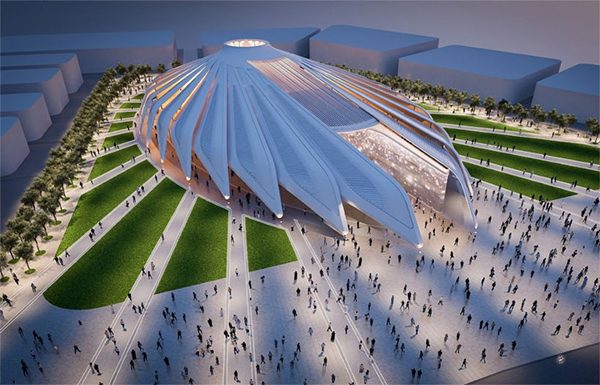 IMAGE SOURCE: Calatrava.com
As hosts, the United Arab Emirates have pulled out all the stops with their design. The 15,000 square metre plan is designed to evoke the wings of a soaring falcon. The work of Spanish architect Santiago Calatrava, the UAE Pavilion will be set across four floors with a 1717 square-metre hospitality lounge on the top floor. Elsewhere, more than 12,000 square metres of exhibition space will showcase the UAE commitment to Connecting Minds and Creating the Future.
The design is a nod to the role that falconry played in the founding of the United Arab Emirates. Calatrava has sought to evoke the pioneering spirit that transformed the UAE from a disparate series of communities into a global connection hub.
United Kingdom
'Poem Pavilion'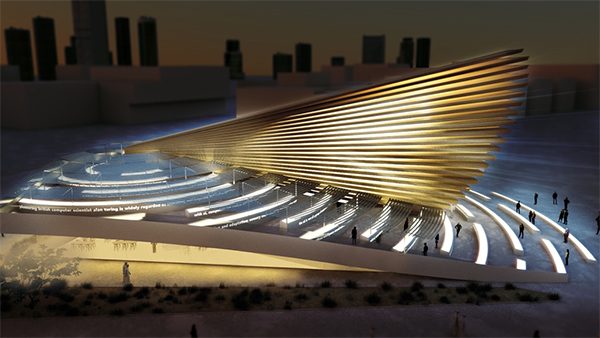 IMAGE SOURCE: The National
The Poem Pavilion is the brainchild of artist and designer Es Devlin and intends to highlight 'leading British expertise in Artificial Intelligence and Space'. A collaboration with global agency Avantgarde, the UK offering will be highlighted by a 20-metre tall, cone-shaped feature that sends an illuminated 'Message to Space.' The message will be composed of numerous AI-generated poems that visitors will be able to contribute towards.
The concept was inspired by late British physicist Stephen Hawking, who released a project in 2015 entitled 'Breakthrough Message'. Hawking encouraged people to create digital messages that encapsulated the breadth of humanity in case we establish contact with other advanced civilisations.
Germany
'Campus Germany'


IMAGE SOURCE: World Architecture
Germany's offering will be set on a huge 4,500 square metre plot, making it one of the largest pavilions of the participating nations. Campus Germany will provide a range of interactive experiences for visitors, the most notable of which is their intelligent assistance system called IAMU.
Visitors to Campus Germany will provide basic information such as their name, language spoken and nationality before entering – once they've done this, they will receive an IAMU-enabled badge which acts as a guide for the visit. Among the other ambitious educational plans for Campus Germany is a welcome hall which features a pit of 155,000 balls. Every one of these balls can be scanned to reveal a story related to sustainability or a thought leader from Germany.
New Zealand
'Care for People and Place'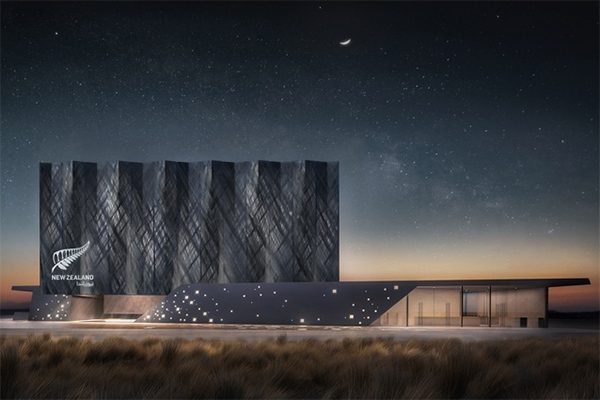 IMAGE SOURCE: Architecture Now
The New Zealand Pavilion will be built around the indigenous Maori concept of kaitiakitanga, which relates to guardianship and protection of the natural world. Designed by architectural firm Jasmax, the NZ offering will feature an expansive exhibition space that champions New Zealand innovations and a restaurant that serves premium New Zealand food and refreshments.
The design is inspired by waka taonga, which are Maori receptacles used to protect important items and gifted to create bonds and preserve traditions throughout generations. This intent to portray the deep kinship between humans fits Expo 2020's theme of Connecting Minds and Creating the Future.
Czech Republic
'Czech Spring'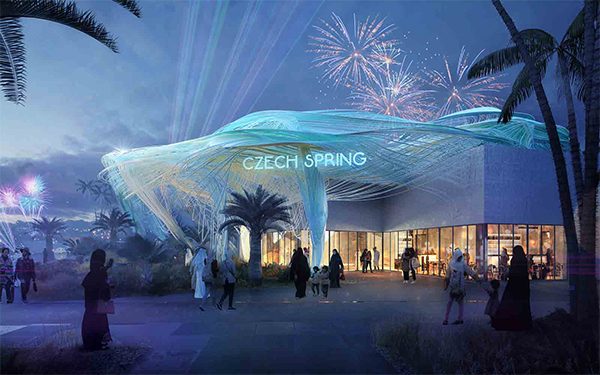 IMAGE SOURCE: Expo 2020 Dubai
The Czech Republic pavilion will be themed upon sustainability. Spring is regarded as the most popular time of year in the European nation, with the design intended to showcase a nation in full bloom.
Czech Spring is built around fluid lines that flow around rectangular exhibition halls, with a huge designer glass installation and rotating exhibits expected to attract plenty of visitors.
Perhaps the most important aspect of the Czech Spring Pavilion will be the demonstration of a Solar Air Water Earth Resource (S.A.W.E.R.) system. The innovation utilises solar energy to extract water from air through a photobioreactor and compost tea. From this, scientists have been able to produce a form of algae that can support grass, herb and crop growth in desert sand.
Contact the New Exactal Office in the United Arab Emirates
The impending Expo 2020 has invigorated the Middle Eastern construction industry, with a number of exciting developments planned for the region. Exactal recently announced the opening of a permanent Dubai office to support professionals looking to implement our industry-leading CostX® software. CostX® represents a complete solution for 2D and 3D/BIM estimating, seamlessly integrating advanced takeoff with customised reporting and a range of other features.
To get in touch with any of Exactal's nine worldwide offices, don't hesitate to contact your local team today.