Subcontractor Comparison Tools- Why They're Necessary
Subcontractor Comparison tools, also known as Quotes Summaries or Bid Day Tools, can vastly aid contractors in their business. In the case of highly specialised or trade specific work, it is often necessary to request bids from multiple subcontractors for packages of work that would be required on a construction project. When receiving multiple bids for each work package, a method of scheduling, organising and analysing comparable quotations on a like-for-like basis is paramount.
Subcontractor comparison systems provide a means of listing each quote received against its respective work package to help rank the bids and make a decision on which subcontractor will be appointed for the relevant scope of works. Examples are found in simple Excel® workbooks, through to those with inbuilt complex logical formulae, through to bespoke modules within dedicated estimating software applications.
An effective subcontractor comparison system will need the ability to:
Incorporate a database of Subcontractors allocated to specific trades
Keep a database of Subcontractors together with their associated contact details
Sort/break up the base estimate information into user-defined (trade-based) packages of work that reflect how the job is to be let/procured
Export packages out for Subcontractors to price their respective scope of works
Enter multiple quotes received from prospective Subcontractors
Readily identify flagged items not yet priced or 'excluded' from a subcontractor's quote
Accommodate varying levels of detail i.e. lump-sum or priced schedule
Allow for choice in filling gaps in quotes from competitor's pricing, from estimate pricing, etc.
Split items into separate work packages
Provide analytical reporting capability
Allow lump-sum or percentage based adjustments across wholesale or selected items for final settlement of a quote
Further manipulate the Main Contractors final tender submission price by adding on Margins, Contingencies or any further allowances
Re-sort the work package based comparison back into the original/source format required for transmission to a client
While there are various solutions out there, CostX® estimating software offers all of the above, with the added benefit of the subcontractor comparison being totally integrated within the main software package, creating an all-in-one solution that will suit all your requirements.
Essentially, the integration of subcontractor comparison into your main software package is key. If you're working with a totally separate subcontractor comparison module, it's extremely cumbersome to not only have multiple programs open at once, but also try to link them effectively. It's crucial that you carefully examine how having a subcontractor comparison program that's integrated into your main estimating program will positively affect your business.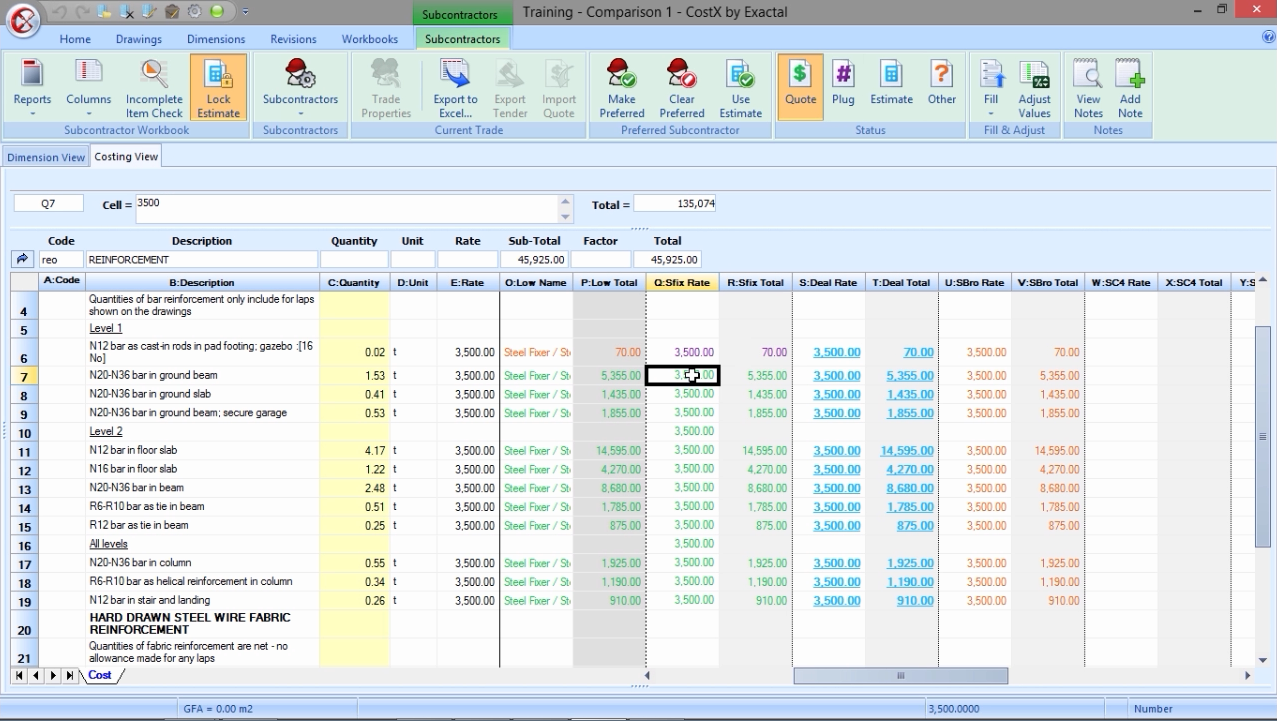 Another key benefit of CostX®'s subcontractor comparison system is how subcontractors can input their figures directly into your quote, allowing you to eliminate copy-paste errors. Essentially, you send out your quote file and subcontractors can either import it into CostX® Viewer or their own copy of CostX®, fill out the figures (while not being able to amend other fields), and send it back. You're then able to import it in and have those figures added into your CostX® workbook automatically.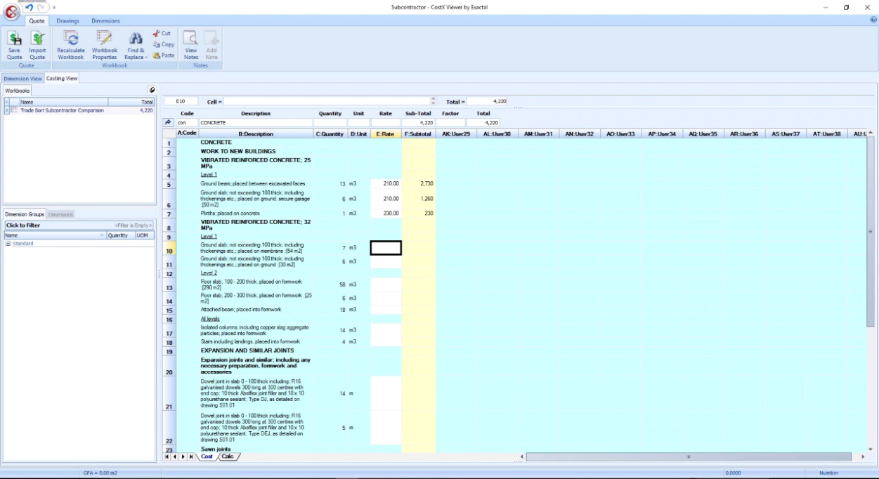 Overall, an effective subcontractor comparison/ Quotes Summary/ Bid Day system, integrated into your main software package, is integral to your business and offers the following benefits:
Time saving
Accurate like-for-like comparisons
Mitigates the possibility of incorrect data entry
All the data can be entered into one single system
Efficient analysis process
Assists in making more informed decisions
For more information on how CostX®'s subcontractor comparison system could help your business, please refer to the following resources:
Blog Post: My Favourite CostX Feature- Subcontractor Comparison
CostX Training Video: Subcontractor Comparison
CostX Coffee Break Webinar: Subcontractor Comparison (5 Part Series)
CostX Subcontractor Comparison Manual [can only be accessed by current clients]
You can also contact your local sales team here.