The Role of BIM in a Disaster-Resilient Built Environment
Natural disasters and extreme weather conditions are becoming more common in many parts of the world. RIB's Brisbane office was impacted by yet another major flood event in March 2022, eleven years on from the Brisbane floods of 2011 that claimed 33 lives and caused an estimated A$2.4 billion in property damage.
When it comes to the built environment, the advent of Building Information Modelling has allowed project teams to make great strides forward in form, function and sustainability. In this new world however, it's vital that new builds are designed intelligently to mitigate the effects of natural disasters.
For our latest blog, we have explored three ways that BIM workflows can be applied on projects to aid disaster resilience.
Building Advanced Structures with AI and Simulations
The big data revolution is already playing a key role in building safety. Construction designers will conduct multiple simulations to assess the potential impact of earthquakes, fires, floods and other disasters. The results may inform redesigns or material changes.
In this regard, the collaborative strength of BIM and AI can aid decision-making. Designers, project owners and other key stakeholders can all easily access the BIM model and provide their insight on best practice. This mitigates the risk of oversight and ensures everyone has access to the data they need to make the most informed decision.
If the project at hand is in an area susceptible to certain natural disasters, it may even be that designers will use materials or design techniques that allow for easy rebuilding or recovery.
The benefits of BIM go beyond the design stage too. After a project is handed over to the long-term owner, they can utilise the data at hand to inform repair schedules and other factors in the wake of disaster damage.
Real-Time Data for Emergency Response
The data-rich nature of a BIM model can have significant utility for any disaster response teams needing to enter a building. There is only so much data that can be represented on 2D physical plans, and such plans can go out-of-date quickly.
It's not difficult to see a world where BIM models are made readily available to emergency services. Data built into these models could include the location of flammable materials, detailed slip hazards, notes on how smoke will spread throughout the structure, in addition to more common details like evacuation routes.
BIM could play an important role in the future of active evacuations too, especially for densely populated structures like office buildings. In the case of a fire for example, a system of BIM modelling used in concert with other smart technologies could help guide inhabitants away from hazards in real-time.
Large-Scale Retrofitting of Informal Housing
There are other applications for BIM that could have positive societal impact in urbanised areas vulnerable to natural disasters.
By 2030, it is projected that more than 3 billion people will be living in substandard housing conditions. Informal housing in areas susceptible to extreme weather conditions is a growing problem, but initiatives are underway to efficiently retrofit such housing with the help of BIM.
Non-profit organisations such as Build Change have made great strides in retrofitting, which is strengthening an existing building to improve its structural integrity. It is seen as the most sustainable and financially viable way to produce safe housing on a large scale. Build Change have worked tirelessly with government agencies and building authorities to save lives from windstorms and earthquakes in 14 countries.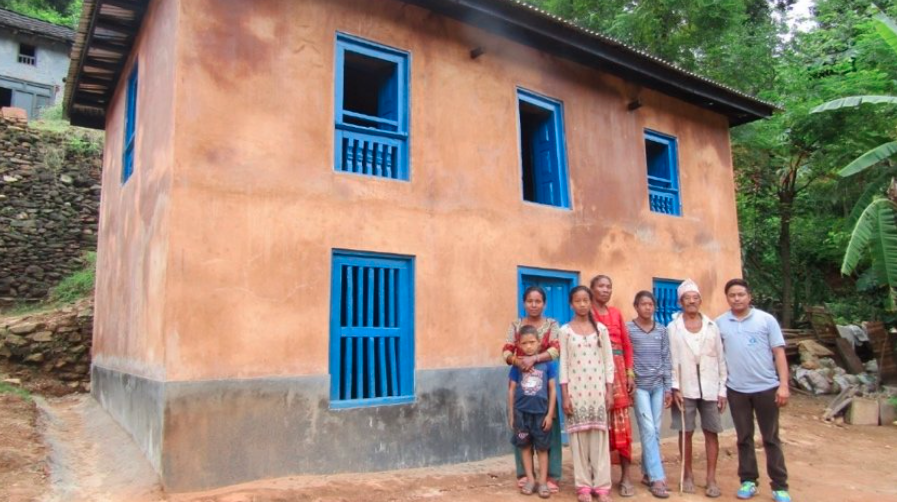 A home retrofitted against earthquake damage in Nepal – IMAGE SOURCE: Build Change
BIM-automated tools have been used by Build Change to scale up their program, solving bottlenecks and slashing overall delivery time. Mobile apps, GIS data, prescriptive structural analysis and other techniques are used as part of the methodology. It's not hard to see similar BIM frameworks being adopted worldwide by organisations looking to efficiently retrofit homes in exposed areas.
Choose iTWO costX® for 5D BIM Workflows
Cost consultants and construction professionals who choose iTWO costX® can count upon world-leading 5D BIM capabilities.
Our all-in-one takeoff and estimating solution supports all major 3D design packages, with advanced viewing tools, user-defined properties and in-built templates on offer. Quantities can be live-linked to iTWO costX® workbooks with ease for streamlined estimating.
iTWO costX® is a fantastic option for those looking to get started with BIM without abandoning 2D workflows. It's easy to measure in 2D or 3D mode from the same model, and even switch between views with measurements remaining highlighted.
To find out more about the 5D BIM capability of iTWO costX®, don't hesitate to contact your local office today!